Whether fashion statement pieces started off as cultural attire, expressions of rebellion, adaptation to climate change or representations of social class and wealth; one thing we can all agree on is that fashion is a multi-national project. Inspired and contributed to by diverse personalities and societies across the world.
A piece by Memory Herman
---
As fashion trends spiral through time stirred by cultural, historic and social evolutions of clothing items, whilst being propelled by futuristic ideas of self-expression – we take a look at national clothing items that have infiltrated global retail markets across all classes of income – items of historic, cultural & social importance that have come to add volume & unique accents to modern wardrobes. Due to having remained consistently desirable, inexpensive, sophisticated or beneficial; some items have become global statements pieces – spanning beyond borders and beyond trends.
The English Trench Coat
Attire worn by British Army officers in WW1 inspired the preliminary clothing item that represents the foundation of the Burberry brand as we know it today, the trench coat. Due to its original role as an Officers uniform, the trench coat radiates a businesslike respectability when worn.
The Dutch clogs
Clogs are known to be found amongst massive outlets of souvenirs seen mostly in many Dutch speaking countries. What are clogs? Any wooden soled shoes, made in part or completely from wood. Clogs are still largely manufactured as fashion wear today.
The French Beret
The beret is a soft round flat-crowned hat seen worn in social, professional and cultural settings. It can be seen forming part of the uniform of many military and police units worldwide. It has also been known to add a somewhat chic accent to female attire and a dapper touch to the masculine looks.  The beret remains a strong symbol of french style.
The Indian Sari
The sari is a versatile and stylish garment that gained its popularity because of the international growth of Indian culture and fashion trends. The material is easy to wear and has a wide price range depending on fabric, weaving style and embroidery. The sari is usually wrapped around the waist, with one end draped over the shoulder.
The North American cowboy hat and boots
Riding boots and wide-brimmed hats are a typical cowboy or cowgirl's work wear. Originating from north America and today found in all corners of the world. This items are seen both in social and professional settings with decorative stitching often seen on boots.
The Japanese Kimono
The word Kimono means 'the thing worn'. Kimonos are the ultimate symbol of traditional Japanese culture. In today's fashion setting, kimonos are an outer wear draped over many an outfit to give the wearer free movement and the comfort of discretion.
Bohemian style
Boho chic style favors free flowing fabrics that may or may not be draped upon each other. This way of dressing is meant to put the wearer in harmony with themselves and their surroundings creating a sort of relaxed gypsy look.
The Scottish tartan pattern (plaid)
Tartan or plaid is well known as the "checked-cloth" pattern. Originating from Scotland and religiously seen on many a kilt – this crisscrossed pattern has crossed borders to be found even on school uniforms in various colors.
The South American Poncho
The poncho is a single large sheet of woolen fabric with an opening in the center, for the head to pass through.  It is a reversible clothing item, giving the buyer the benefit of two for the price of one. It is well known as the "chamanto" in Chile where it originated with purpose to keep the body warm.
The Hawaiian Aloha shirt
The Aloha shirt is a style of dress shirt originating in Hawaii. Festive aloha shirt patterns and flip-flops are uniform wear for beaches across the world. Brilliantly colored with floral patterns and worn as casual, informal wear; or mild patterns with muted colors that are worn in Semi-formal functions.
The African Print
African print apparel may have a number of names, and may be dressed differently across Africa. From east African Kitenges to West African Ankara textiles; from head wraps to Dashikis and from custom-made gowns to bold print inspired handbags. African Prints come with an association deeply rooted in culture. The vast textiles, prints and attires originating from different corners of the continent can be seen reflecting the cultural history of African nations.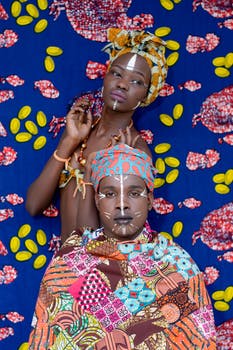 ---
Follow Memory on Instagram