What a WOW! 
It is Monochromes job to keep track of what happens at every fashion event that we have been invited to. We looked at what trends prevailed, which models seemed to pop up and made constant statements, and which faces we spotted in the front row and the overall ambients of the event.
It is almost impossible to keep track of everything considering the capacity challenges we are facing here at HG. So, we're thankful when we attend a show that's so good we couldn't help but remember what we saw come down the runway at Katutura Fashion Week.
Here is a full-circle overview of what transpired at KFW through our eyes.
Let's Talk Fashion
The Katutura Fashion Week started off the best way possible- a panel discussion on what the future holds for the fashion industry in Namibia and what we can learn from what other countries are doing to keep the industry sustainable and representable of every key player.
The panel was filled in by Hildard G Brant, a professional photographer and former model, Lusia, founder and CEO of BYNAMIBIA, Fedelis E Usigbe, fashion designer and founder of DEL Africa Fashion, Dennis Hendricks, Model and co-founder of KFW, AB Pieters, BET executive producer and a representative from South Africa Fashion Week.
Some of the highlights from the panel discussion were with how gov should be investing in the industry because of half of Namibia garments are imported from other countries. The emphasized on the fact that simple garment produced here such as civil society uniforms to work shoes manufactured here in Namibia could be a great way to start supporting the Namibian fashion industry tangibly. Another highlight that was how policies are in the way to make meaningful contributions to the industry and how bills take forever to be passed through the cabinet.
A competitive industry such as what we experiencing in Namibia should be of negative results but that uplifts an industry. We should learn to come together and collaborate and find opportunities amongst ourselves because we are all working towards one goal- growing the fashion industry in Namibia.
Venue
KFW took place at the Katutura Community Art Centre (KCAC) right in the courtyard of the College of the Arts and the decision behind this made it clear that the KFW team wanted nothing but unite cultures through fashion and bringing fashion to the people. An opportunity for emerging fashion designers, models, makeup artists, hairdressers, photographers and videographers from all 14 regions of the country a chance to showcase their work in the heart of Katutura.
What a WOW!
Fashion Designers
The runway was filled with African inspired designs, textures, textiles and colour play. Most designers brought their A-Game and while some did not have complete collections the runway shows were definitely ready-to-wear inspired as a collective. It's as though all the designers where told steer away from avant-garde pieces to items entirely wearable.
We have a few designer favs that we want to highlight on because they showed complete garments and portrait a message that is current right now.
1. Joseph Panduleni Valombola
His collection was titled "Valo Wear". It was love at first sight for menswear. His collection had animal print and was truly safari-inspired. We saw overalls and two-piece pieces. You could easily tell how he showcased his youthfulness in his signature finish, the beanie.
2. Santia Poroto
Santia Poroto clothing This summer-ready silhouette was such a bliss to watch. She played around with fabric choices that incorporated her skill in textile designs. Her inclusion of both sexes is our cherry on the top of our KFW cake.
3. Leone Shimuketa 
The SIRENGA BY SIRENGA collection captured a true resilience of female power. This collection was so thoughtfully oversized, featuring pleats,  structure, statement sleeves, and relaxed proportions. If ever we decided to name winter, Sirenga would be it. Her designs also embodied a healthy portion of drama and glamour. Makeup and hair worked so well on the models and we definitely stan.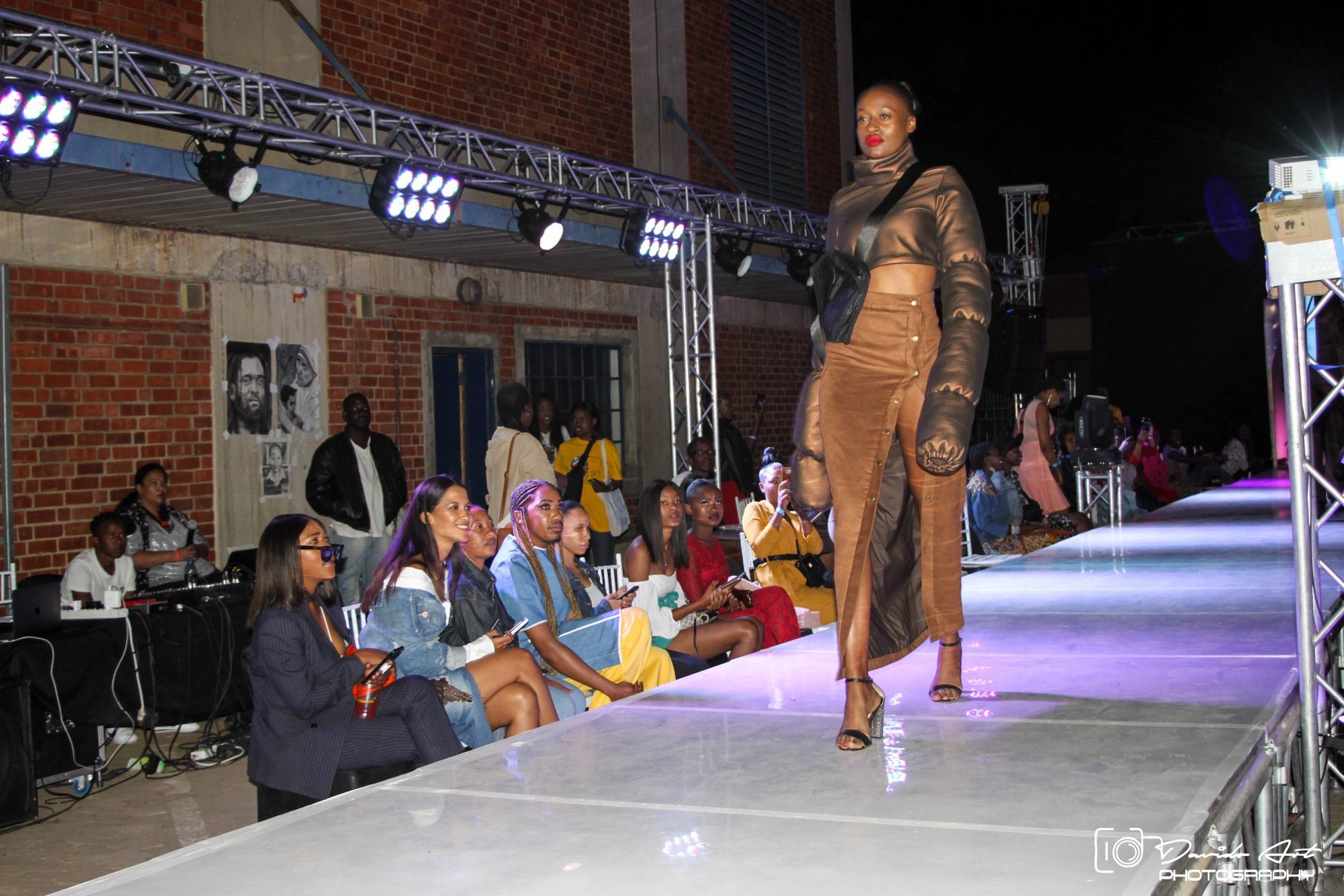 4. Helen Hangula
Puurfekt Couturewas a standout for us. talk about quality meeting sophistication. An all-black collection was mind-blowing not only because we love an all-black-everything affair but this collection had a strong social message attached to it. "Stop Xenophobia" it said on one of the boards carried by one of the models draped in a dreamy and grounded chiffon two-piece. "Stop Gender-Based Violence," said another board. There were moments of silence, jaw-drops and a standing ovation. We cannot wait to see which cool kids will wear Puurfekt Couture on the red carpet or even and The The Fashion Soirée this year.
What a WOW!
Models
Diversity and inclusion are two words that we kept referring back to. The KFW team presented this so well in the form of carefully selected models from all spheres of life. We are talking about black, white, children, men, women, visually impaired, disabled and the list of on.
The merge between model industry favs and emerging models was so refreshing to watch. You could literary see skills transfer happening  on the runway.
What a WOW!
The KFW Awards
Because we were solely focused on fashion design and trends on the runway. The KFW Awards took place at the National Independence Memorial Museum Restaurant on the last night of Katutura Fashion Week. We would, therefore, like to congratulate all the winners.
Keep going, you are doing great. – Betty Sibeso
---
Which day and fashion slot really blew your mind?
Share some of your thoughts with me