Words by Jay Aeron
If you were deprived from going into your mom's vanity case as a child, then we totally understand your passion and enthusiasm for the beauty and make-up industry.
Justine Kweyo owner of Sleep in the Zoo  Beauty (SITZ) recently launched some juicy glosses and matte lipsticks. Never finding the right consistency in retail stores for her lips inspired her to do her own thing.
I've always tried to look for something, especially with the lip-gloss I would always mix two brands together to get the perfect consistency that I wanted. I remember always mixing mac and essence. One day I was thinking to myself, that I could just try and come up with my own formulation rather, something that I genuinely liked and that I didn't have to mix with anything.
Going back and forth with research and samples from the factory, she finally came full circle and SlTZ Beauty was born. With the exact consistency in lippies that she longed for.
SITZ currently has a range of lip-glosses that come in 5 shades as well as 5 matte lipsticks.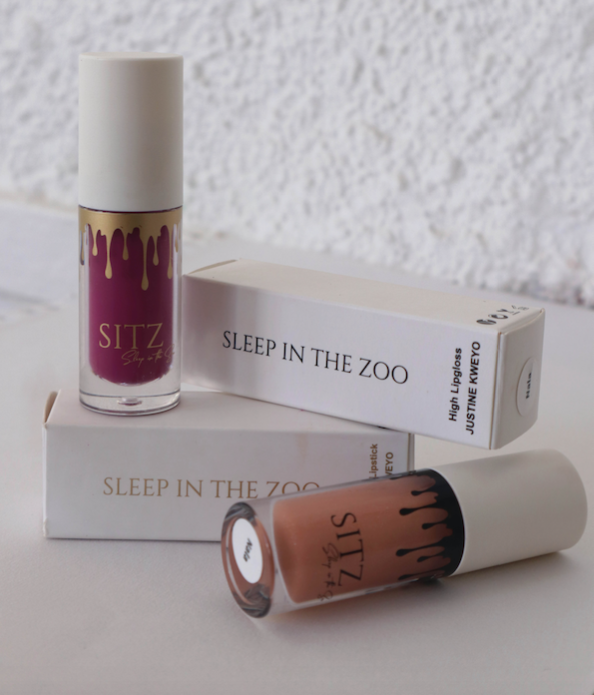 Speaking to Justine at our headquarters recently when she delivered our PR package, she expressed so much excitement to launch more products. She also let us in on the news that she is currently busy with a new product. The essence of the brand is to not only beautify the face but also to beautify their souls, echoes Miss SITZ.
It was created for women and the LGBTQ+ community of all ages and races to make them feel more beautiful and confident.
I must add I love a local brand that advocates for inclusivity.
Finally getting a chance to try out the new SITZ beauty products, I already have a favourite, it's the lip-gloss in the shade NALA. From smell to texture, it really is the one for me.
We asked Justine what her favourite shade is and safe to say, Justine and I have the same taste.
I would say Nala. Nala has a unique shade of nude that shimmers. I love the fact that I can wear it on top of a nude lipstick or just on its own. Moreover, it is long lasting- well, they all are.
Aspiring to have most of her products in drug stores locally and internationally, Justine says her inspiration comes from wanting to own an Empire and this is a great start.
Who would have thought that playing with your mother's make up would one day be a contributing factor to your empire?
So when my mom wasn't home I would steal her makeup products, and I would sit by her dresser table and just played around with my face.
and this commenced  her love for make-up.
Sleep in the zoo beauty products will be available soon countrywide, but in the mean time you can make all your purchases online at sleepinthezoobeauty.com.
Happy shopping and stay glossy or matty, you decide!
---