Dynamic and creative Renate Shikongo  has been making waves with her special effects work with Innovation Studios.
She lets us in on the process as well as her brand.
Happy Read!
---
You've build a good make up brand over the past year, how did you manage that?
I really love what I do, it's crazy! When I'm passionate about something, I do it hard and try to be the best version of myself. I have invested in my brand through promo shoots, projects and being consistent with my art.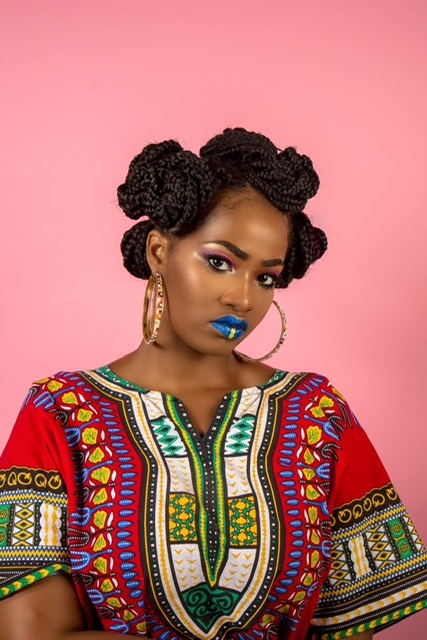 What have been some of the challenges?
Aaah! I hate this part. Clients that do not pay up! Gosh! You hire my services and have excuses when  paying up. I can now say that ever since I drew up a contract, I haven't experienced that often. Secondly, clients that are not used to having their faces beat up –  it is always a job trying to convince them that the makeup is not "too much".
Talk to us about special effects make up… where did you learn to do that?
I never attended lessons on make-up art, I am a self-taught makeup artist. I attempted to do the special effect once on myself and already with my first attempt, it looked legit. That in a way motivated me to do it more.
How often do you get to practice that?
Not often at all, it is one of those skills where I only practice when I am approached with a gig or when I am utterly bored and I want to be messy, yes it causes a big mess! Perhaps, when I get real equipment I will practice more,  at the moment I use food.
Talk to us about your recent project with Innovation Studios?
It is a project initiated by the Innovation studios. I was hired to do the makeup.
"HEADLIGHTS CAN BE REPLACED, HEADS CAN'T".
Namibia is 45th on the high death rate caused by accidents in the whole world, for a country that has a population of less than 2.3 million it is quite worrisome and alarming. This was a social awareness demonstration about being safe on the road.
STOP RECKLESS DRIVING, STOP DRINKING AND DRIVING, STOP DRIVING WHILE TIRED AND STOP SPEEDING!
These are the main precautions we aim to encourage. We took a very graphic approach, recreated an accident scene with very graphic makeup (wounds), which I did. The aim for the approach is to scare individuals and mainly drivers to take the necessary precautions. Maybe and just maybe the community needs a sensitive exhibition like such for a change.
Walk us through the process of special effects make up…
I consider myself an amateur in the special effect art department. I am literally just innovative and creative with how I do it. I do it my way. So the main aim is to create something close to reality, the colors and textures I decide to use should be something that can execute realness to the observer first. I do not use the correct tools or equipment for this art, I use anything that can sell you that illusion. For now, I use food. From the blood to the wounds it is all edible. It is not harmful to your skin and its comfortable to have on. It takes me about 15 minutes to do the art depending on the size and body part, I can do it in 5 minutes too. The wounds I create can last on your skin all day if you want to keep them on and they are easy to remove with pure water.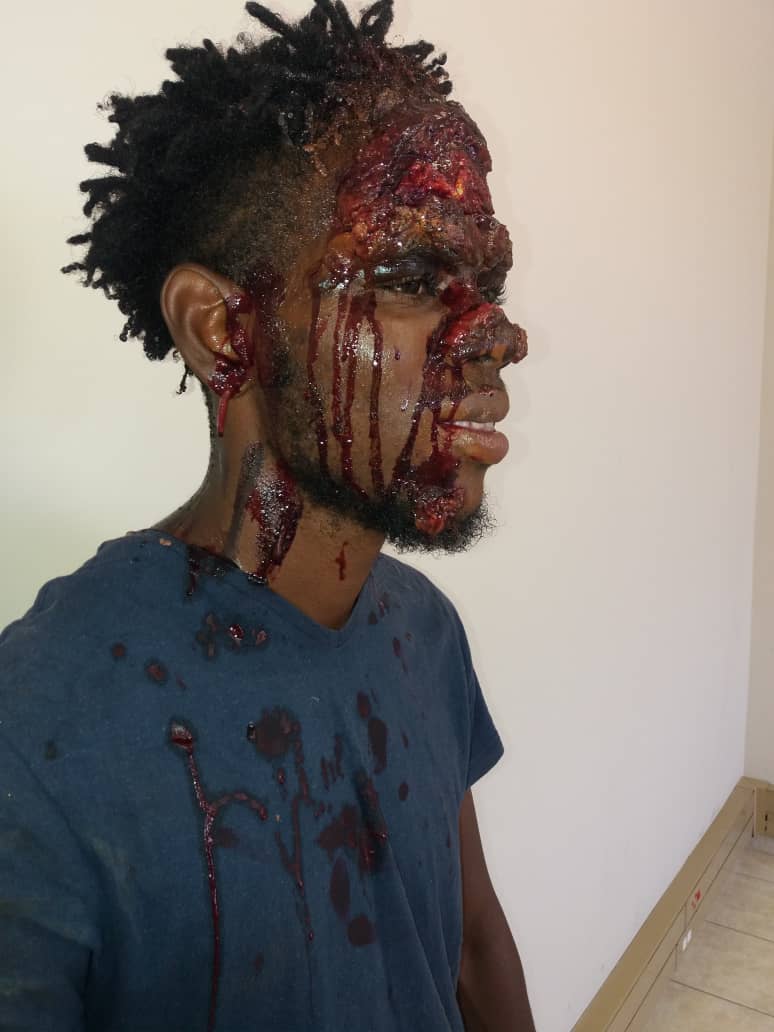 What do you love most about what you do?
The process of application. I love doing the work, I become more creative during the process and I don't plan on the art I will do, I allow myself to go with the flow. I just need a direction e.g car accident bruises(driver seat),from there I allow my imagination to control my brush, it keeps me innovative. Also, my soul is fed when I enhance people's beauty( beauty makeup). It's all about the process really. I am a happy person because of makeup, it's very therapeutic for me aswell.
What is your ultimate make up gig?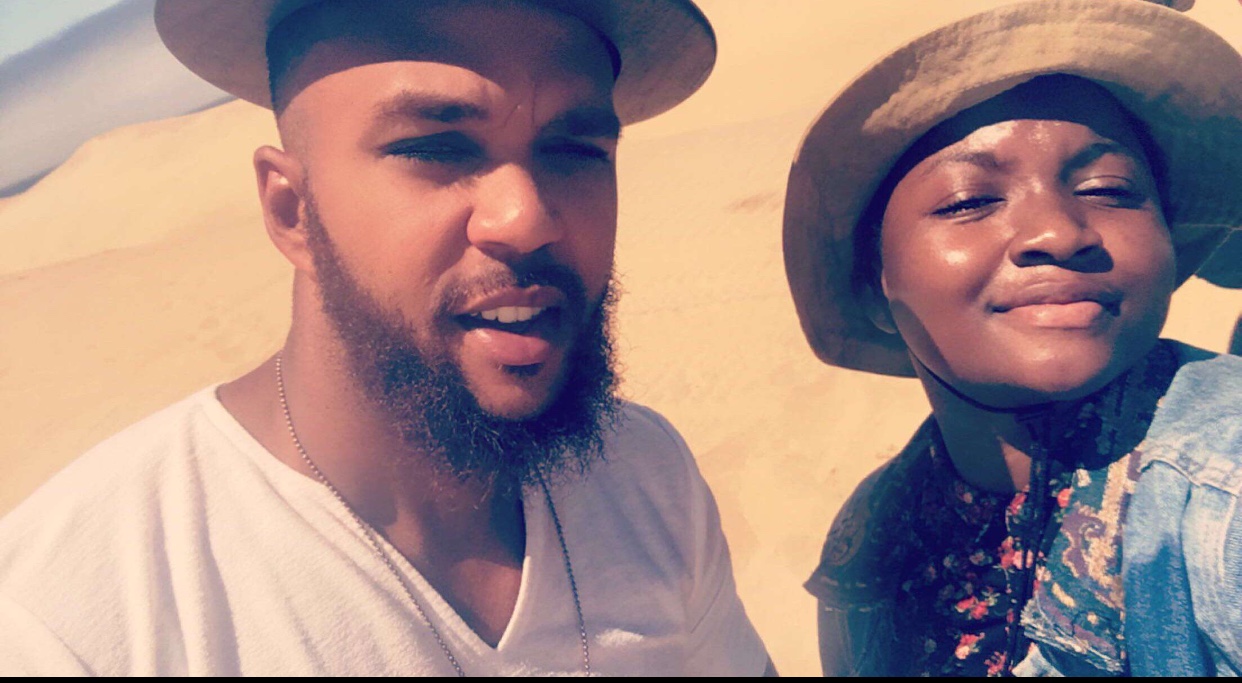 The ultimate gig was when I worked with the international musician Jidenna "classic man". He was in Namibia early 2018 to shoot his music video. They contacted me via my Instagram business page and we took it from there. We shot in Sossusvlei, Dead Vlei, Swakopmund and Walvis Bay. It was a different experience really. High standard and very busy. It didn't really end well but I remain grateful for such a great opportunity and experience. The video is not out yet.
Plans for your brand this year?
I do and still am working on projects for my brand, would like to host events as well and continue with my tutorials. Working on collaborating with a lot of artists as much as I can, I urge creatives to contact me so we create concepts and work. It's a great year,  just follow my page.
---
Keep up with Renate on Instagram: @renate_nam