Oshikandela recently launched new packaging as well as a fun collaborative campaign that includes four very talented Namibian designers.
Times are changing and although the old Oshikandela creative has been embedded into the consumers lives, we felt that the brand needed to move with the times to stay relevant to its current consumers and to engage new consumers and markets. The theme around the competition is "Hip with Heritage", meaning that as times are changing, so is Oshikandela – however Oshikandela still remains true to its consistent, trusted quality our consumers grew up loving.  - 
Cheslyn du Plooy, Brand Manager (Namibia Dairies) on what they want to achieve with the competition.

Oshikandela partnered with four Namibian designers to produce 4 works of art using the new Oshikandela creative as reference. They were allowed to create ANYTHING they wanted to, all they needed to do was use specially made Oshikandela fabric incorporating the new look and feel. The process was documented on the Oshikandela Instagram & Facebook pages.
They partnered with Alba popularly known as DJ Alba who is also the founder of accessory brand House of Nalo. Leon Engelbrecht of Leon Engelbrecht Design, Ndeshi Fikameni of Afroprint Line and fashion designer, Pewa Uushona of PROUD.
We chose creatives who stood out in the creative industry. All of the designers operate in such different creative spheres and we wanted the whole experience to be a challenge for the designers. Being part of the O&L group, we believe in cultivating our values in our daily lives. It was thus important that we chose designers who fit in with the overall culture of inclusivity, diversity as well as being able to create a sustainable future for all Namibians. – Cheslyn du Plooy
After a good week of creating and documenting; here's what the four creatives came up with:
Leon Engelbrecht (LED)
This Oversized Tote bag is a statement piece for the modern, brave, confident and bold Namibian Woman of today, ready to step out of their comfort zone and get noticed. They know who they are, where they come from and ready to tackle the world head on.
This versatile bag can be worn and used in various ways. And has a colour and side to suit your mood and personality:
The 'Hip' side: Wear the full grain black leather side to the front and slide the entire bag over your shoulder.
The 'Heritage side: Turn it around and wear the Bright Oshikandela pattern and fabric to the front and slide the entire bag over your shoulder.
Fold the bag almost half way to the front and Clutch it under your arm.
Use the sling and attach it to the bag and wear it as a cross-body bag
The bag can also be carried as a giant shopping bag by its handles
Alba (House of Nalo)
"The House if Nalo shoulder & neck piece " is a very dramatic piece with a lot of chains and jewels. Similarly, it's a very versatile piece of item , anyone can wear it for any given occasion. You can add it to your plain outfit to create a completely different look that will help you stand out.
Ndeshi Fikameni (Afroprint Line)
The Afroprint line  eco shopping  bag is made from hessian which is a eco friendly fabric made from plant fibre , with a touch of the Oshikandela fabric with outstanding colours and patterns . The handles are made from the 'Olutenda' famous Oshiwambo tribe clothing accessories .
Pewa Uushona (PROUD)
Inspired by the vibrant new look for the strawberry flavor, the object, being a jumpsuit is fun and vibrant much like the print chosen. A use of different textures where incorporated to make it stand out more. The style, a fusion of old and new, again inspired by the new look for Oshikandela with the same old great taste.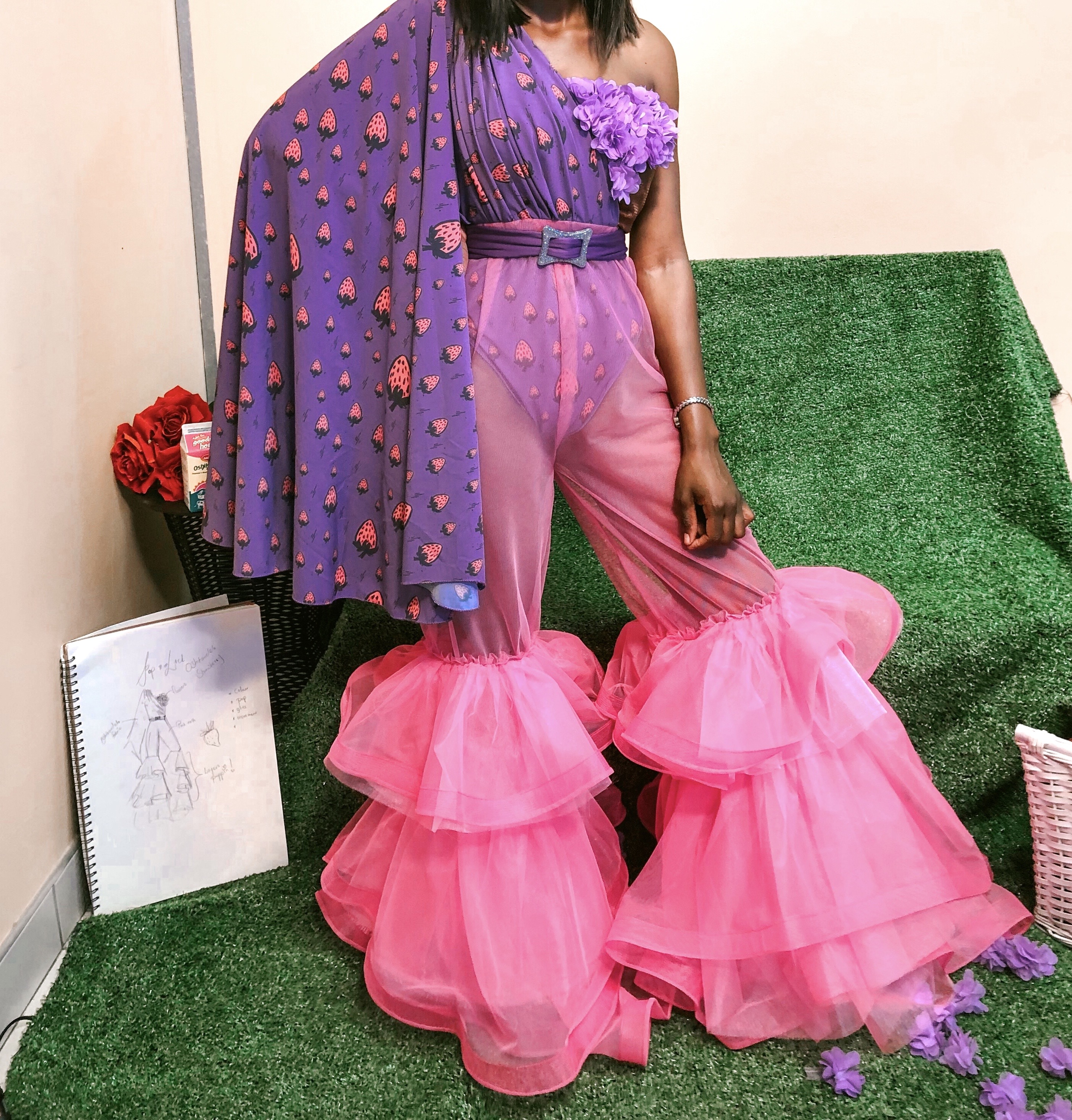 Now that the creatives have presented their versions of "Namibia's Most Loved Object", you get to vote for your favourite object.
All you need to do is visit www.oshikandela.com to place your vote.
---
What do they win, you ask?
The winner of Namibia's Most Loved Object will walk away with N$ 15 000.00 in cash, a collaboration / endorsement on their next collection or initiative within 2020 as well as being the 1st ever titleholder of "Namibia's Most Loved Object".
The winner will be announced at an exclusive Oshikandela new look & feel launch event on the 13th December 2019. Voting started on the 22nd November  and will close 11th December 2019.
Celebrate Namibian talent by placing your vote. You are allowed to vote once a day till the 11th of December 2019.
We don't know about you but we are excited to find what Namibia's Most Loved Object is.
Follow Oshikandela to see more.