There's no accessory as important and uncompromisable like a good handbag. Every person should own and invest in a good leather handbag. More importantly a Namibian brand. Not because it's Namibian but because we have amazing Namibian leather accessory brands we should invest in.
Speaking of which… A Namibian handbag we should all own is one from AMÂNA.
We speak to founder and designer Elzane Ludeke about the inception and plans for the brand.
How old is AMÂNA? How did it come about?
This fashion brand was founded in August 2018. I wanted to introduce a high-end range of leather handbags of international style and standard to the local Namibian market.
At the time when Amâna was founded, I had 5 years of experience in the luxury leather goods market. With the experience of working with renowned brands such as Michael Kors, local Namibian exotic leather brand Katharina & Karl and local high-fashion brand Myeisha, I  finally found the courage to start my own label.
Introducing a brand which falls between luxury and affordable.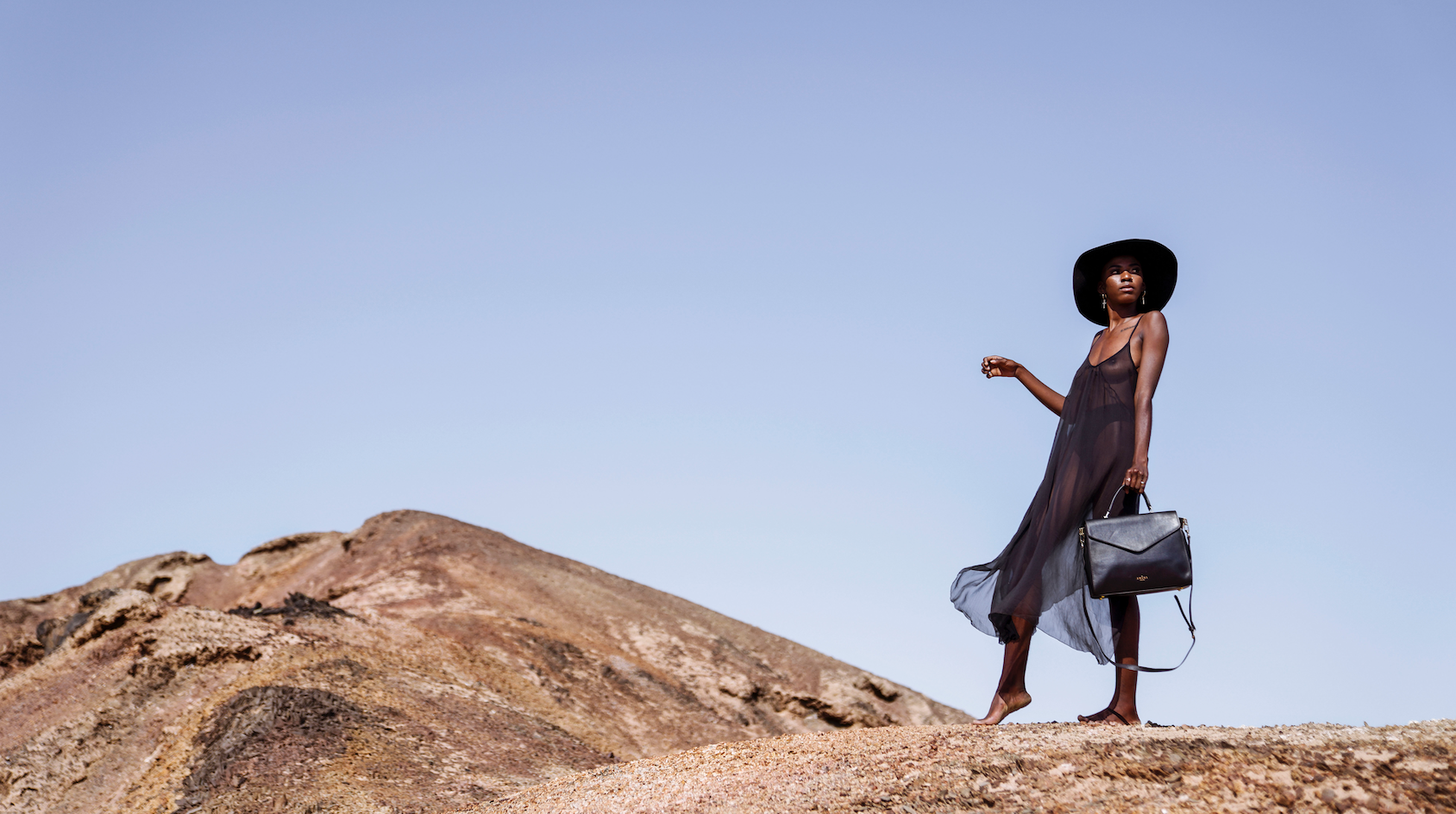 What's the story behind the name?
Amâna means truthful in KhoeKhoegowab (Nama-Damara), a local language. My aim is to put aside the idea of what the fashion industry perceives as 'beauty'. Instead, it focuses on a true and deeper, real beauty.
I want to focus on the raw and the true part of life, where not everyone is perfect, but everyone is worthy.
Being true to yourself if one of the most exhilarating and freeing experiences one can ever encounter. By truly accepting yourself, you can free yourself from a cage created in your mind with the help from media telling you what to perceive as beautiful.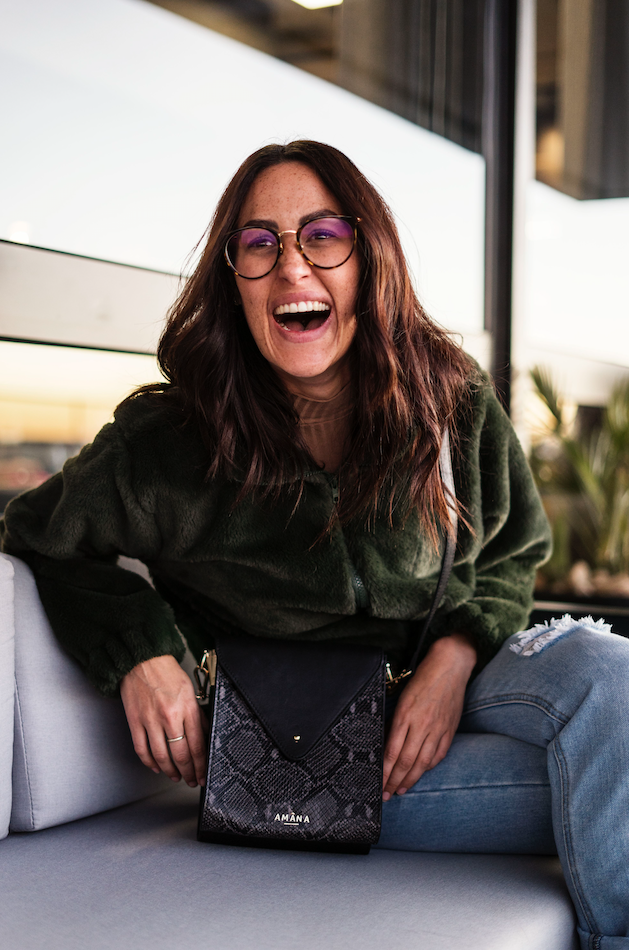 Who is AMÂNA's target audience?
The ideal customer is a young, independent, outgoing individual, between the ages of 26 – 45 who is trendy and fashion-conscious. These women are career driven and keen for adventures in their every day life.
Within this target range, Amâna offers a range of products specifically catering for different personalities and age groups. For example the Maggie bag is for the younger, outgoing generation, whereas the Jeanne tote is more catered towards the older generation.
What is AMÂNA's Signature style? What do you want it to  be known for?
Amâna's signature style is focused on minimalism and timelessness. Because the brand aims to be a sustainable and slow-fashion brand, the products are not trend-driven and would suit any season, any occasion, any outfit.
The colour black is also a dominant feature in the brand, as it represents sophistication and class. Here and there you will find a pop of colour to just make a bold statement that although the brand is a minimalist brand, it does not have to be 'boring'.
Tell us about your first AMÂNA 
item?
The first Amâna item is actually the one still in product development (after almost two years). The Maida bag was designed even before the brand started. I knew exactly what I wanted even before I knew I was going to start the business. It is the perfect work bag for the boss ladies of today, but it is not yet finalized. It is expected to launch in April this year. Stay tuned!
Walk us through your creative and production process…
I don't rely so much on trends of the season or colours of the next Spring Summer or Autumn Winter ranges, but it does help to do research. I follow a couple of classic brands such as Chloe and Charles and Keith for inspiration, but I design my bags according to the South African and Namibian market.
Once I've completed sketching I make the handbag pattern and a quick mock-up (or a 'shell') of the handbag. From this 3D shape I can see if the size and dimensions are correct. I transfer it in to Adobe Illustrator where I complete full range of technical drawings (till the last millimeter) and send it to my suppliers for sampling.
Once the sample is complete I test out the product to see if it is comfortable or if something feels wrong. I sometimes give samples to friends to test them out and give me feedback.
Once I'm 100% happy with the sample, I then go into production which takes 2 – 3 months to complete the stock.
Talk to us about your Fashion Week collaboration…
I collaborated with Conrad, owner of Pinstripe Hippy, on a range for Windhoek Fashion Week. We share the same ideas and feelings about a lot of things, so we knew with this range the collaboration would fit perfectly.
Together we created a range which would not only be appealing to the eye, but have a strong and powerful message as well. We wanted to place emphasis on the fact that your attire is not an invitation to abuse. We used see-through fabrics and strong cut silhouettes (ironically paired with school shoes) to say to the world out there: "Screw you, this is MY body, what I wear is not your excuse for abusing me"
Plans for the brand?
At this stage I am focusing on bringing out the next range of products. My plan is also to start focusing more on the international market by promoting in other countries such as The Netherlands, America and China. It seems like a big step, but starting small and taking it step by step will eventually get me where I've always envisioned Amâna to be.
How does one get a hold of an AMÂNA 
item? Do you ship outside Namibia?
All of the products advertised are available to purchase online at www.amana.design.
I am also open for communication on Instagram (@amana_design), Facebook (@amana.accessories) or email (hello@amana.design) and will assist anywhere I can.
We offer free shipping in Namibia and South Africa, but any order outside these countries is possible, shipping will just be charged extra.