As the make-up industry grows it becomes harder to keep up with the trends. From foundation to eye-shadow, how do you make sure you are using the best products? The simple answer is to follow make-up artists, content creators and enthusiasts.
A Namibian make-up enthusiast to follow is Kawela Mule, her IG Feed is filled with popping and colourful make up looks to try. From pink, to green and blue, Kawela has inspired us to step out of the regular. We chat to her about her favourite products right now as well as her love for make up.
Happy Read.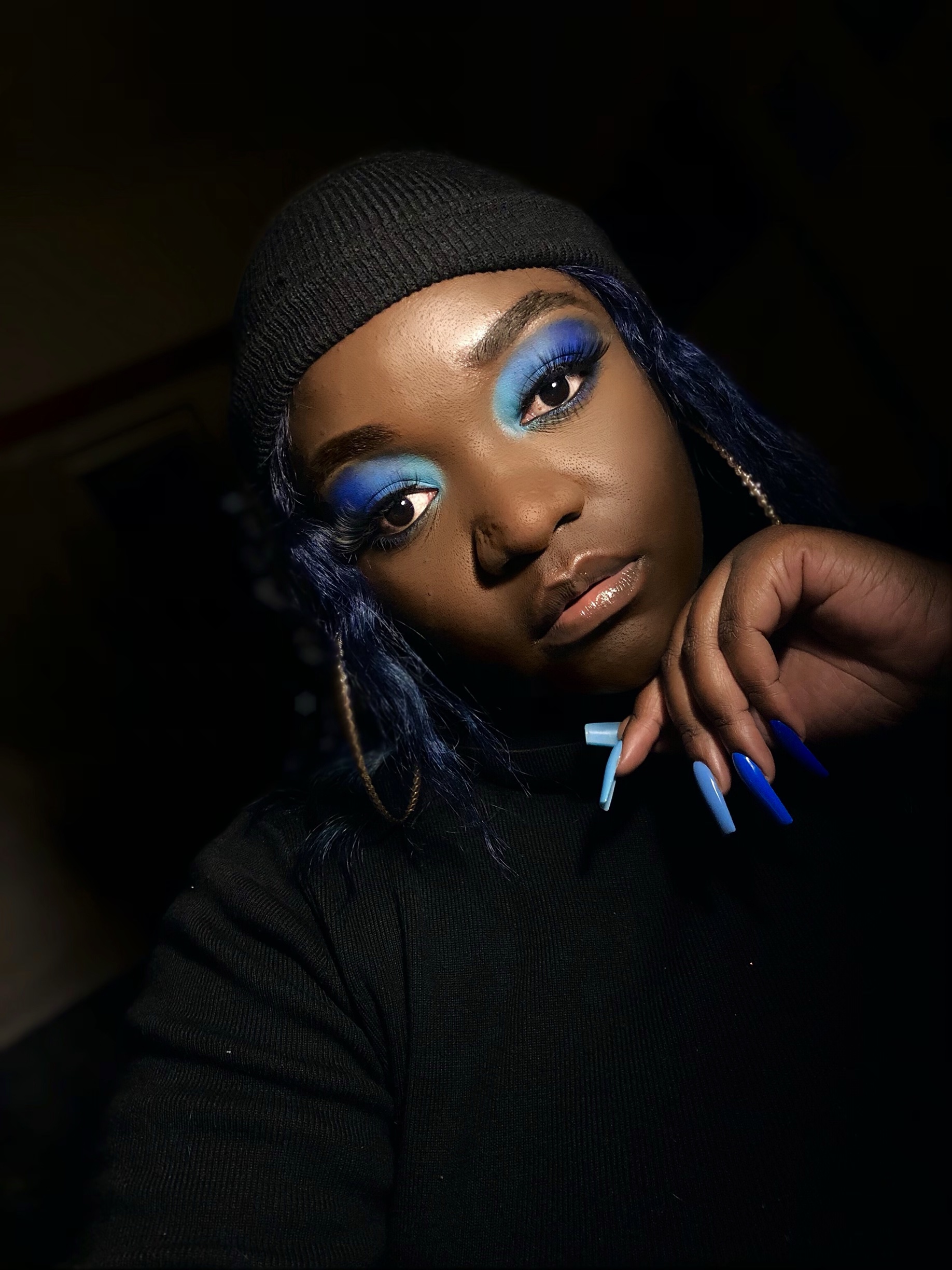 Talk to us about your relationship with makeup?
I introduced myself to makeup in my teen years. I would see girls at church put makeup on so I started experimenting from eyeliner and cooking-oil shiny lip gloss, to cheap eyeshadows from the Chinese shops and tweezing them skinny brows. You name it, I tried it.
In my undergrad, my sister bought me my first two Claire's palettes and that is when I started to experiment with a bit more colour and watch YouTube channels to attempt certain looks.
I would watch online tutorials regularly, but I would always get annoyed because I was working on a student budget and lastly I had no access to many of the products in use. I've always taken a liking to bright colours, my mom said bright colours work on my skin and I wanted to communicate that through makeup and my hair. It hasn't been the easiest journey building up that confidence given the colour politics with my skin…
but I needed black women who look like me to know that makeup is for them too.
When I started working, I began to build up my collection slowly, but surely. I could afford better products and most importantly I could afford to test more products. Makeup, similarly to fashion, is a trial and error journey, with its own trends.
You need to find what works for you.
I love playing with colour and makeup is my way of expressing that. I used to buy Elle magazine regularly back then and the editorial looks would always amaze me. I wanted to create those looks on myself, or be the person doing that one day. I still have that dream.
Complete the sentence:
Make Up is…  Kawela's form of self-expression.
How long does it take you to do a look?
Not to sound cliché, but it depends. I can take an hour or more.
If I'm feeling truly inspired, I like to take my time. Put on a great playlist, get something to sip on and proceed. It's what I enjoy doing, so I enjoy spending time on it.
If I need to be quick about it, I'll do something simple. However, I'm at this point in my life where it's either I go big or go home. If I'm not feeling inspired I'll rather not do anything to my face. My acne and I can blom.
What's your favourite part of the routine?
My favourite part has to be the eyeshadow. I've watched my routine improve with every attempt. Watching my own progress has been encouraging.
Least favourite?
No lie, my least favourite is brows. We have the weirdest relationship, which is dependent on what brow product I use and my mood. I am definitely considering microneedling to fill in the gaps I have in some areas, but I'll work harder on improving that because brows frame your face.
 Who are some of your favourite Beauty/Make Up content creators?
*singing*  "Jackie Jackie Jackie Jackie Jackie Jackie".
Definitely Jackie Aina!
Mercy Mungai, Mpilo Dladla, TailormadeJane, BeatsByDebs, CakeFaceRJ and Vanessa Gyimah.
Your favourite makeup look/s ever?
It has to be my most recent look which I did to match my blue nails. Blending is a tough one, but I am very proud of this look.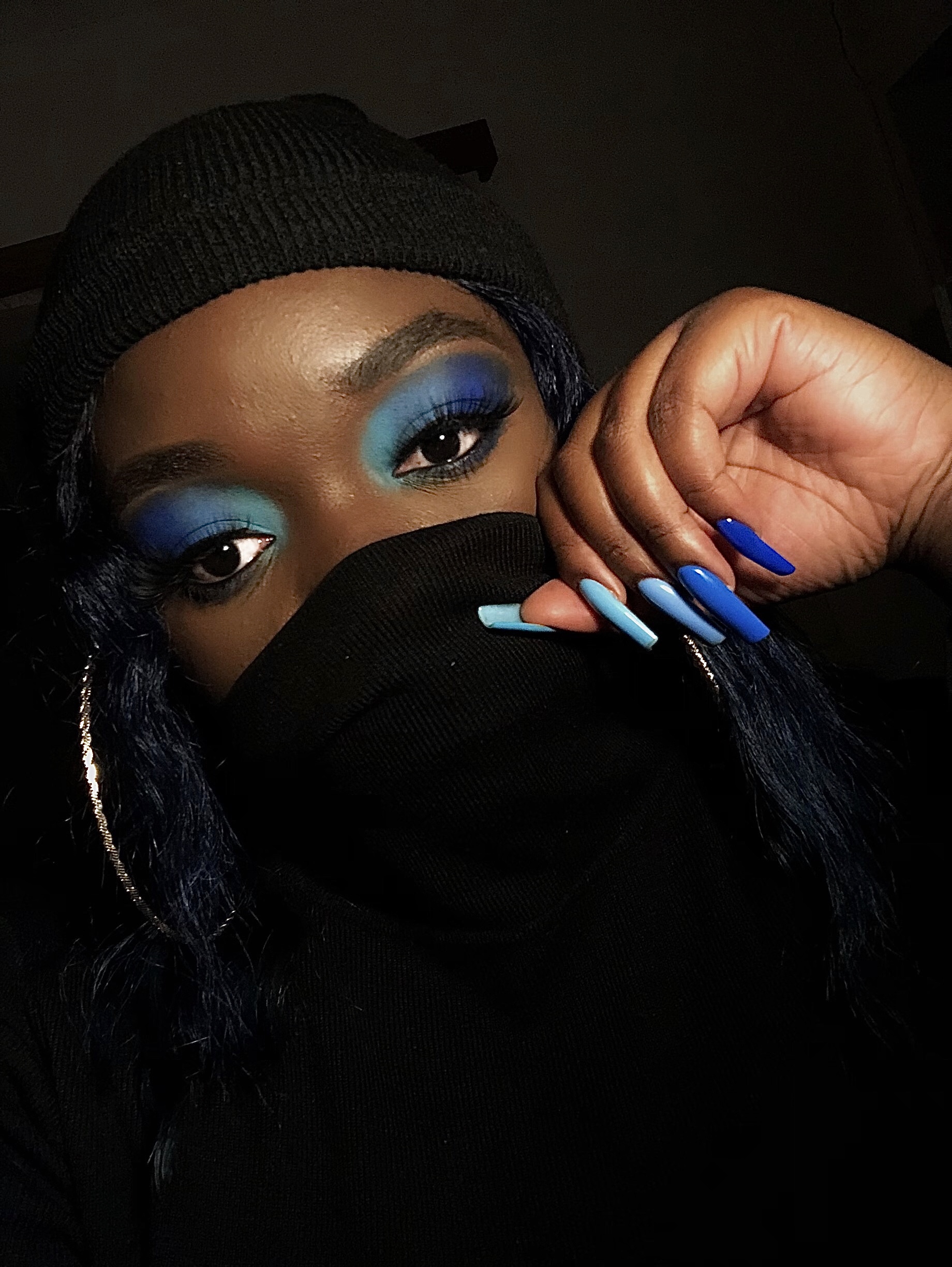 Another fave is this green cut crease I did last year. It melted 30 minutes later because I used a glitter palette that was more of a gel and not loose glitter. We live and we learn though, right?
 What make-up products are you loving right now? List them please, if there are pictures please share.
Some of these products that I mentioned below are available at Clicks or Dischem but I also rely on Hott Off The Heels and my friends who travel to bring me products I don't have access to here:
LA Girl pro mixing pigment (blue). My undertones are cool, which is hard to shop for especially for much darker skin tones. Many are very neutral or have warm undertones. With the pigment I can change the undertone. They are also available in other colours, if you bought the wrong foundation, there's a solution.
Maybelline Fit Me Foundation
L'Oreal Infaillible 'More Than Concealer'
Essence Mattifying and Pore Minimising primer with black clay
NYX Total Control primer (I mix this into foundations that aren't mattifying)
A.C Fix+ Matte
Wet n Wild Photofocus Eyeshadow primer (thank me later)
Ben Nye Luxury Powder (set my face before I apply my foundation and to set my under eye)
---