August just popped in and even though its winds may want you cooped up at home, MonoCulture has even better ideas at how you could spend some of your leisure time this weekend.
Drag Night: Divas
We at Monochrome love ourselves a themed Drag Night & "Divas" is just the way to get our weekend started. Drag Night Nam and Café Prestige will be hosting a Divas themed Drag Night this evening. Pre-sale tickets are exclusively available at Café Prestige, with a damage of N$80 at the door. The meet & greet begins at 19h00 & the show starts at 19h30. Contact @cafe.prestige or call them 081 8141 212 for pricing and availability if you would like to reserve a table for the evening. Limited general seating.
MYNT x Dj Castro
Now we know we have a few rockstars tuning into this list and we made sure to include you. Tomorrow night, Dj Castro will be the exclusive act at MYNT nightclub featuring acts to the likes of Yeezir, The Rhythm and Dj Fish. Tickets are N$100 (not fixed) and lucky for you, they aren't sold out just yet. Booth options are also available which are inclusive of tickets. Contact @mynt_nightclub_windhoek or call them 081 3324 937 for more information.
Ngandu Social Cafe
As a versatile platform, we made sure to include our Rundu residents & travelers that will be spending their time in Rundu this weekend. Ngandu Social Club will be having their second installment of the Ngandu Social Cafe this weekend at the Rundu Sports Stadium. This social cafe aims to bring people together with art, music and of course food. Tickets are N$50 and N$160 for four people. The time is from 12pm until late, with live performances featuring the likes of Gazza and sounds by local artists. If we were there, we wouldn't want to miss it. More information in the post below.
Open Season: Last Winter
If you're caught up today and tomorrow, don't worry cause we got you on Sunday with Open Season. Since this Winter is coming to an end the theme is "Last Winter" and the dress code is smart casual (warm spring wear). Open Season is known for its sundowner experience with a normally awesome Dj line up and we expect no less this coming Sunday. Tickets are available at Hotel Thuringerhof for N$60 and N$80 at the gate. Contact @openseason.na or call 081 840 2951/ 081 464 7673 for more information.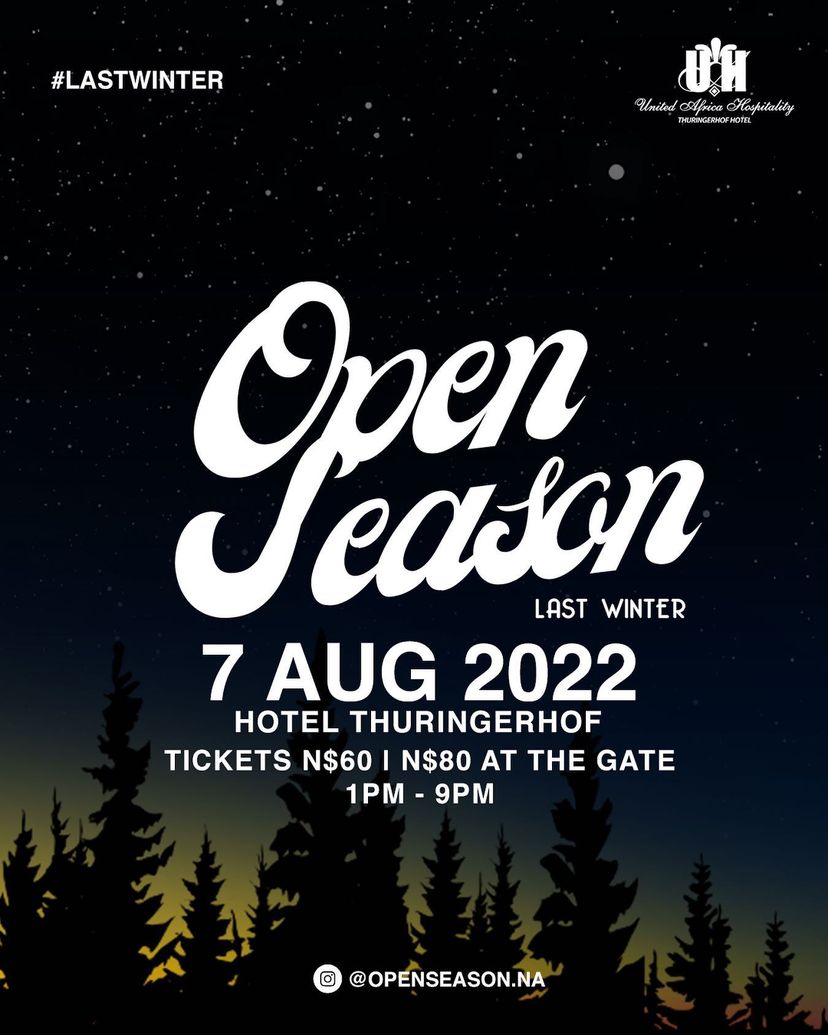 If you happen to attend any of the aforementioned events, please do tag us so we get in on all the fun you'll be having @monochromemag