Raise your hand if the word 'resolutions' rubs you up the wrong way and grips tight around your oesophagus like Velcro…
Anyone else?
New Beginnings are all fun and games until somebody gets hurt tripping over the expectations they set for themselves that were too high to ever reach in the first place…. Hence: Face plant by Feb. .
Setting a goal is as easy as pie. As in, eating pie.
Seeing said goal through to the end is…. like making the pie from scratch without a recipe or a kitchen aid or an oven. i.e less easy.
Being a health coach for the past 4 years (first in my beloved NYC and more recently here in Southern Africa), I've gathered some nifty tricks up my sleeve for bringing lofty goals down to earth and making them a reachable reality.
I'm here to tell you that you can have (make) your pie, and eat it too.
---
Here are 5 strategies to start thinking about living your healthiest year in 2019:
---
1. Get clear on your why.
Most people skip this crucial pre-step and jump straight to the generic what and how of healthy living.
If your why isn't rock solid and true to you, your resolutions and new lifestyle attempts will crumble like crumbs by week 2…and before you know it you'll be back on the couch scrolling instagram eating Simba chips from the packet loathing yourself. Again.
Not this year! Visualize yourself at the end of 2019: Where do you see yourself; How are you feeling – physically and psychologically? Describe your IDEAL level of energy, contentment, resilience, etc?  What is your body able to do for you? What kind of health is required to do the things that matter most to you? The sky's the limit when it comes to visualisaton exercises so think big and write the words down as they enter your head.. This is how you begin to define your why.
Everything we do – especially the things that take a bit of effort – should align with our bigger goals in life in order to be authentic and maintainable. If something doesn't contribute to your final destination, you're likely to drop it off along the way.
2.  Bite off just as much as you can chew.
I'm not talking literal portion sizes (yet). I'm saying challenge yourself to set smaller goals. Ironically, it's harder at first to aim for 50%, than 100%. We'd rather sign up for that over-priced gym membership, throw away all the "carbs" in the house and swear to "never touch chocolate again until June!", than just commit to smaller, less dramatic sustainable actions. We're all or nothing. Even though we've never been able to actually maintain 'all' for any significant amount of time…
3. Spend 5 minutes on Sundays scheduling 3 non-negotiable "Health Blocks" for the week ahead.
When I say schedule I mean actual google calendar with invites and the works.
One block could be food-centred  (go grocery shopping and make a big, super healthy delicious dinner with enough leftovers for the next day's lunch);  One block could be for fitness (schedule a new class at that studio and ask a friend you miss hanging out with to go along with you); and one block could be for self-care (floss or mask or de-clutter your cupboard, or read your book at a cafe for 30 mins, or sit down and do the damn meditation you've been putting off).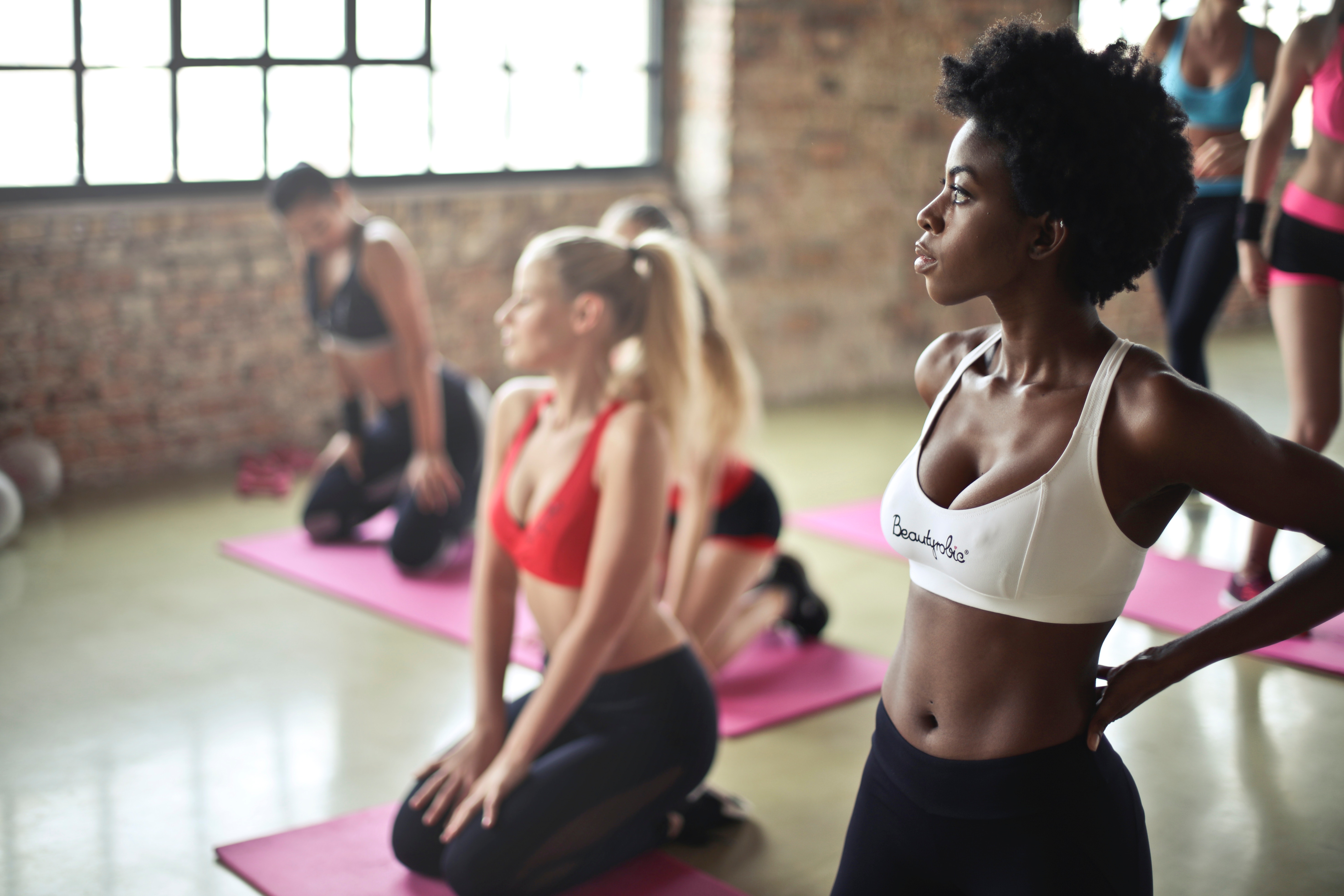 4. Set support systems in place.
Ask for professional advice; get friends involved, find a workout buddy, join a group challenge to eat less sugar and keep one another posted on your progress, etc! Research has shown (over-and over again) that we're better together when it comes to making lifestyle changes! Community is the key word for a healthy 2019.
5. Live like you love yourself.
This might take some fake it till you make it (because the outside world needs us to feel incomplete and imperfect at all times)  but if you can manage it a few days a week, it works like a charm. In fact, a lot of faking at first it is required here:
Often when I can't muster from thin air the will power (a concept I don't believe in) to eat well or move more, I simply ask myself in that moment of decision-making "What would I do if I cared about myself and my health?" and then I pretend to be that person and next thing you know I'm back home sweating after a workout, pulsing with ecstatic endorphins and genuinely craving a smoothie, not a burger?!
Magic.
---
Born and raised in Namibia, Klara studied her BSc (Hons) Nutritional Therapy degree in London then moved on to New York where she worked as a Health Coach and the Director of Content at Parsley Health – the first membership-based medical practice that combines conventional medicine with personalized preventative care.  
Today Klara divides her time between coaching clients, leading corporate workshops, teaching yoga, cooking insanely delicious healthy food for her fiance, and writing for a number of leading international wellness sites and publications- including Mind Body Green and Into The Gloss– on all things modern empowered self-care, food and mood.
What gets Klara out of bed in the mornings is good coffee (bulletproof), Spotify playlists, and the chance to introduce someone to the best healer in the world- themselves. Maybe that sounds cheesy, but Klara's fine with some cheese (and butter).
---
Join Klara on the New Year 28 Day Mind Body Reset starting on 21 Jan!
Everything you need to start your healthiest 2019 journey – fitness classes all over town, recipes, motivation, community support and smoothie discounts and more!  Your most value-packed flexible fitness membership. Ever. All for only N$800. (Early Bird Tickets currently on sale for N$650 until end of day Wednesday 16 Jan!)
Bring your New Year's intentions to life! Take the first step, and they'll be there for the rest"