The fierce and talented queen of rap, Lioness, dropped the visuals of "Tala" last Friday and it left us shook and edgeless.
From the fashion and styling to the cinematography, the creatives behind it pulled together one of the most memorable music videos Namibia has to offer.
Lucky for us, we got the Directors to help us unpack this masterpiece.
---
If you haven't watched it yet, watch here:
---
Now let's unpack it:
---
The Girls playing in the beginning
The creative team had originally intended for the little girls to be humming to TALA as the car rode up as a way to reinforce the pop cultural impact that Lioness is well on her way of achieving. There's no denying the impact that she's had on Namibian Music since the release of "Dreams". We felt that it was important to create symbolism for the role we foresee Lioness having on not only the music industry, but also her impact and importance for little Namibian girls.
We also took note of the fact that one of the best ways of determining the 'goodness' of a song is by testing its impact on children, hence the intention to have children humming TALA.
The Creative Cohort
In order to understand why the visuals feel the way that they do, one really needs to look at the makeup of the creative cohort that was involved in the decision making. Having diversity and a balance in terms of representation is a priority for good creative work. Not only does one need to a have a spectrum of perspectives in front of the camera, but it's just as important to have the same range of perspectives in the room where the actual decisions are made.
The TALA creative team consisted diverse group of Black Women and Queer Persons, from the production company, makeup artists, stylists, directors and the stores from which we sourced garments.
The Makeup
The makeup for TALA was not steered in the direction of your regular face beat. Natalia Shigwedha, the head makeup artist, specifically steered away from harsh contours, highlights and strong brows. Instead she chose to enhance the natural features of each girl and added pops of colour as well as art to make bold but subtle statements. Glowy and dewy looks was the aim throughout the video and each look was meant to give off a powerful and feminine aura.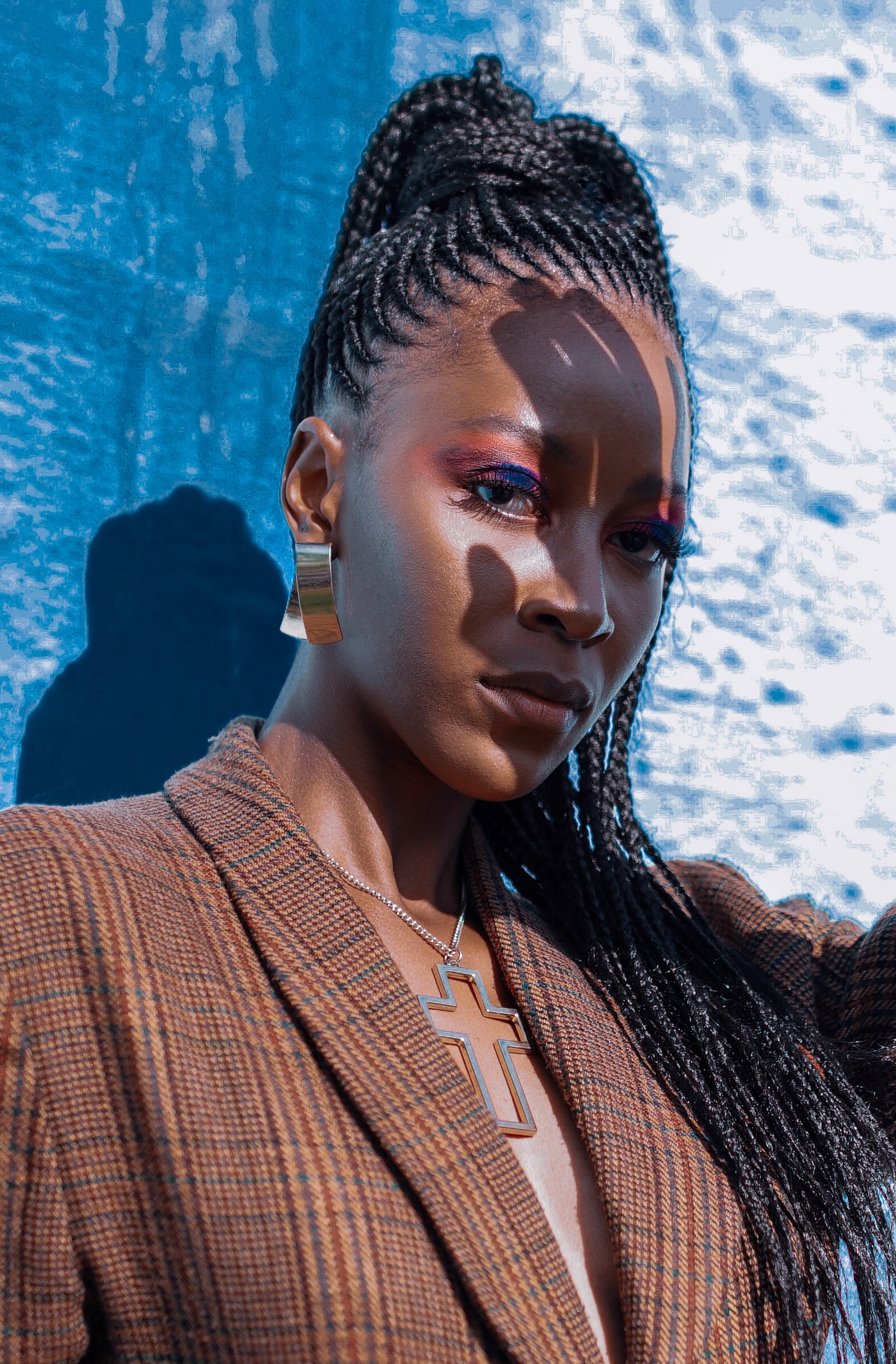 Natalia incorporated two toned eye looks throughout the video to captivate and reinforce the 'boss' and 'intimidating' elements of the looks.
---
Behind the TALA Styling
---

Scene 1:
Throughout the first scene Lioness is seen wearing an army green blazer laced with fur. She was also wearing a gold statement neckpiece with a Lion engraving. The outfit was paired with seethrough ankle length boots laced with hand-sewn midnight wasabi satin socks.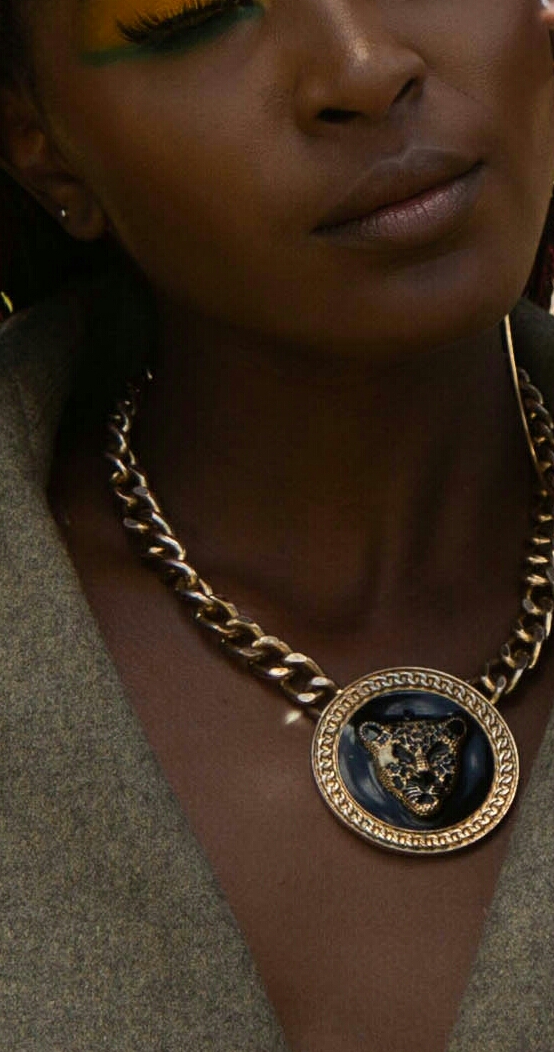 Models
The first model wears green adaption of a skirt-suit, paired with black bralette and black combat boots. It's a very punk interpretation of a boss woman. She's a boss woman who isn't afraid to express herself.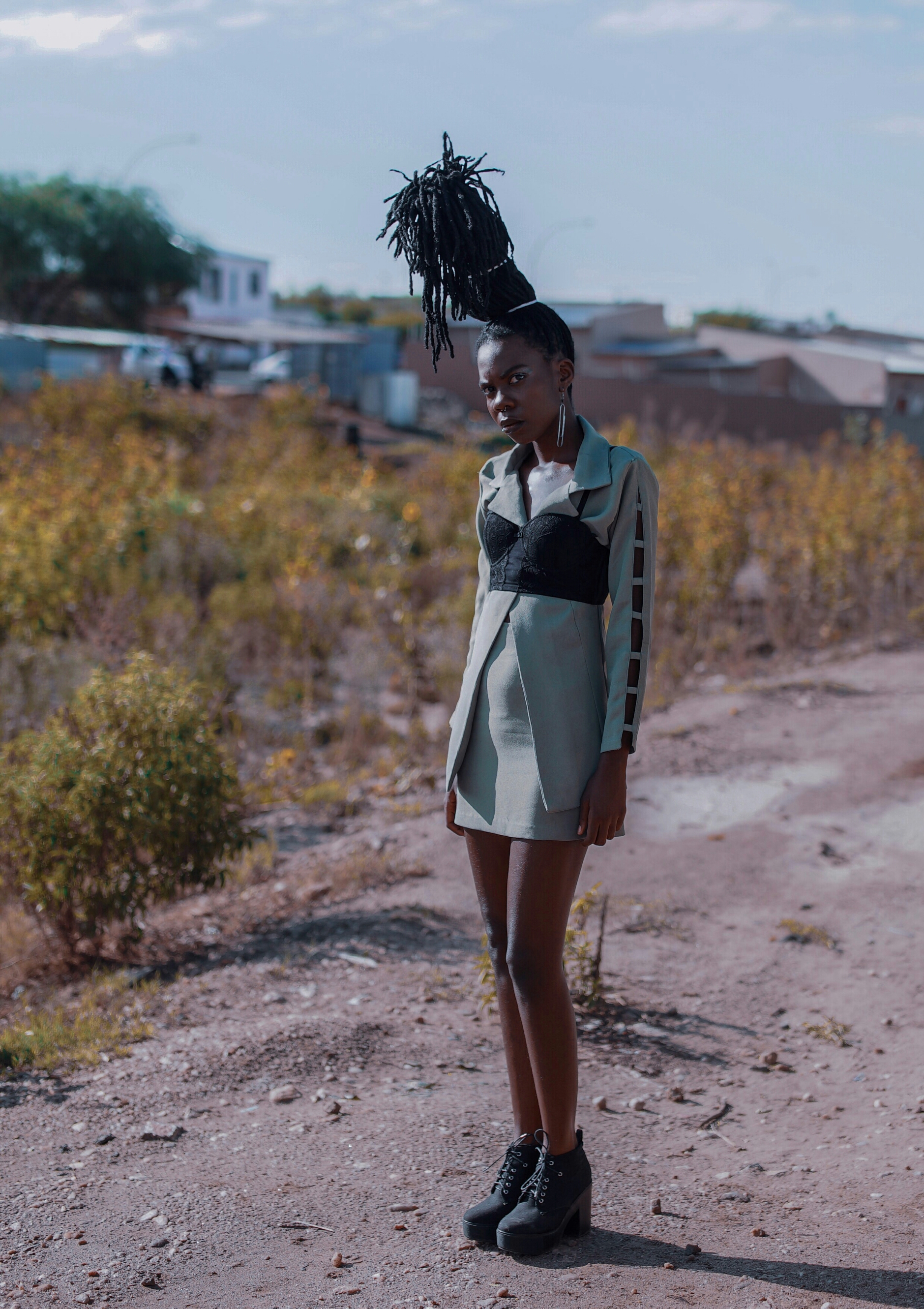 The second model is dressed in a green fur jacket and a metallic skirt. The look is fun, flirty and sexy.  Her bantu knots matched with the ensemble place an emphasis on Girlpower which is a theme that is explored throughout the look and feel every outfit.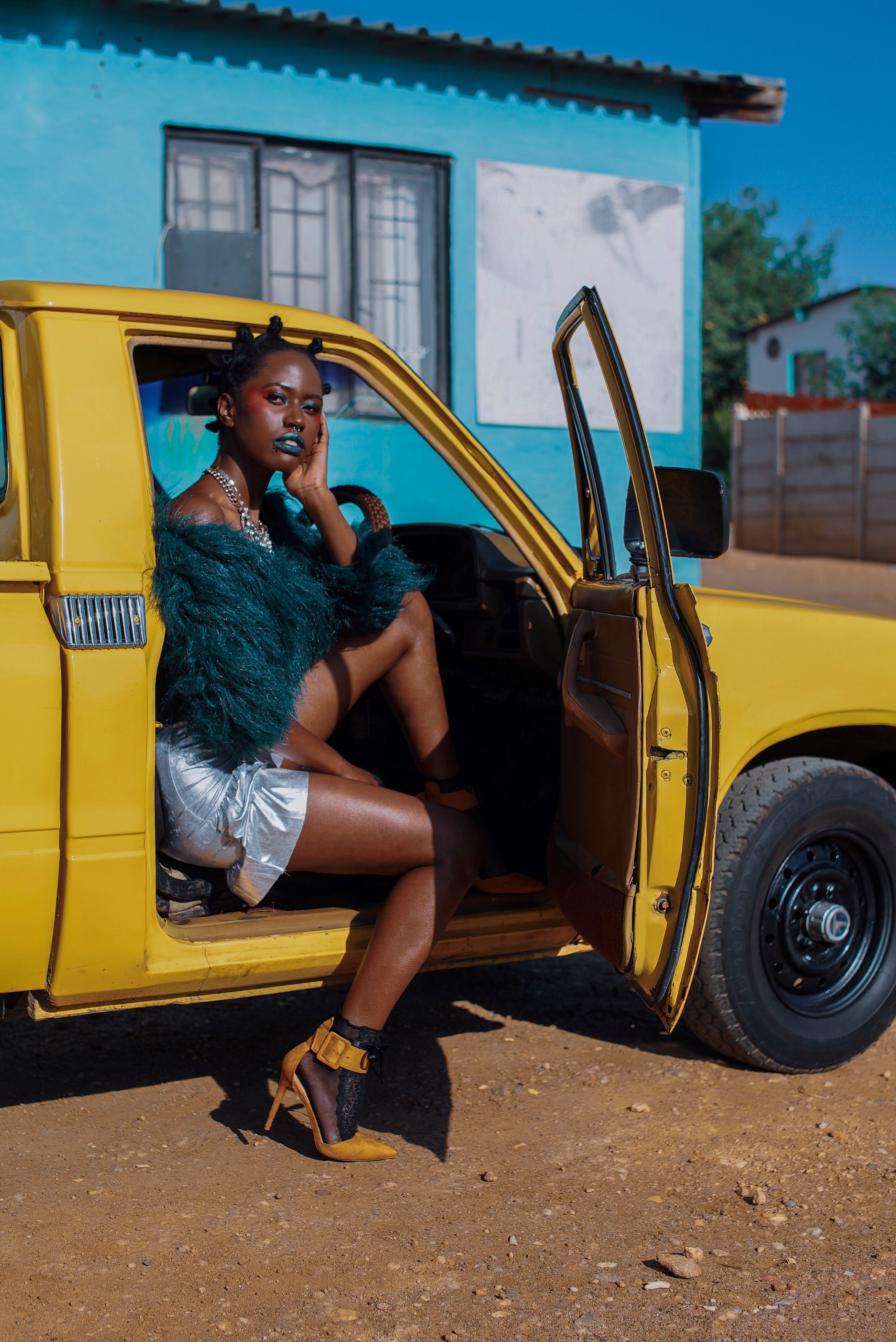 The third girl is wearing a silk shirt. Silk is typically a posh material, and also commonly considered masculine. The effort here was to validate the fact that women also embody a masculinity. We tried to use silk to reinstate the concept of masculinity to further enable women to be considered just as strong as men.
The fourth and final model is seen wearing a plaid blazer paired with wide knee length pants and black sock boots. Her outfit is layered, a symbol for how thick-skinned most women have to be. It also creates a great silhouette.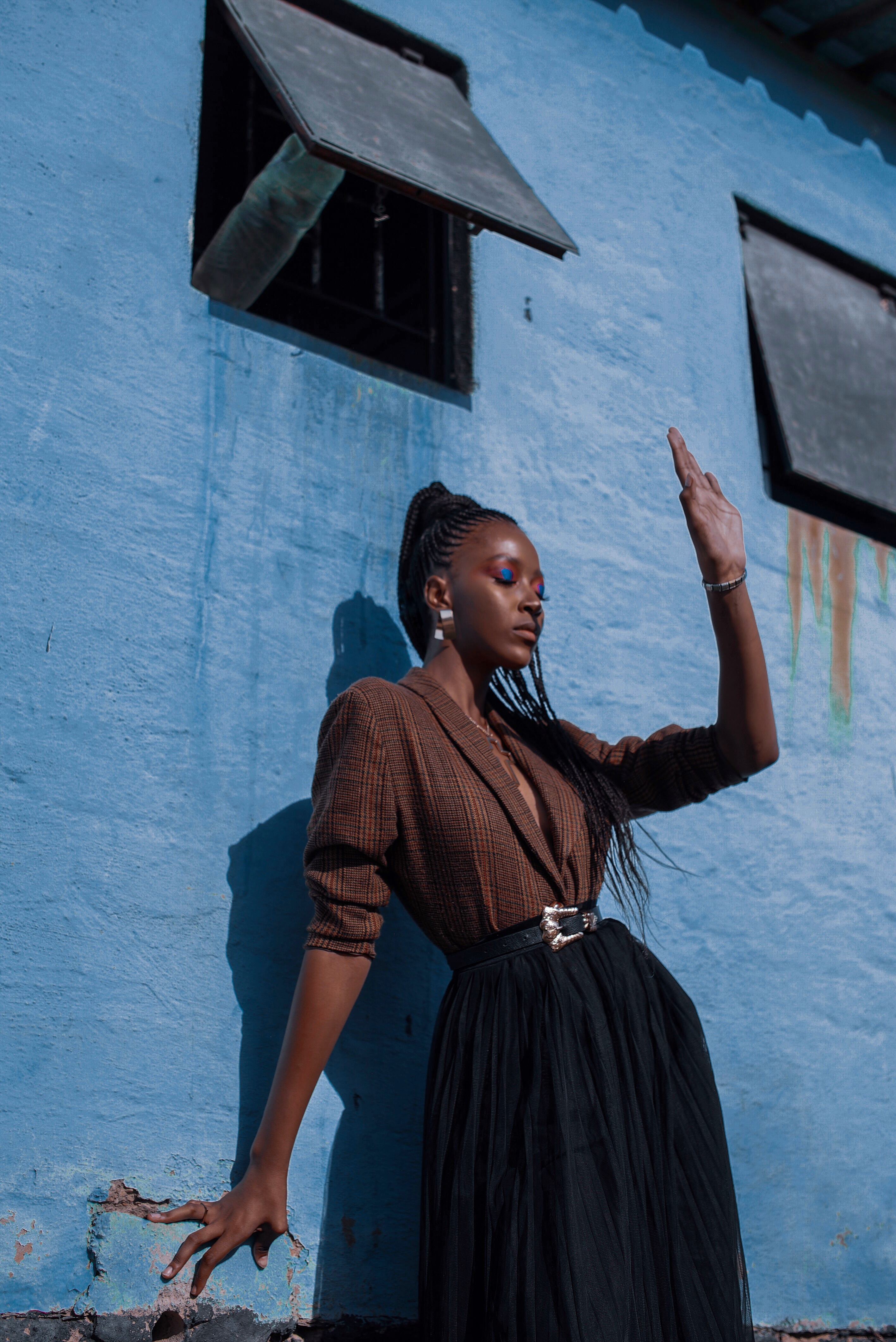 The first scene's fashion brings together many powerful women that embody different characteristics, and together, form one bigger character – Lioness.
Scene 2:
Denim is timeless. Women are timeless.
Lioness is seen wearing a 'Pride of CIlQ' CD Dress which was made from 200-300 CD's from her debut album that had been mistakenly produced with one single too few.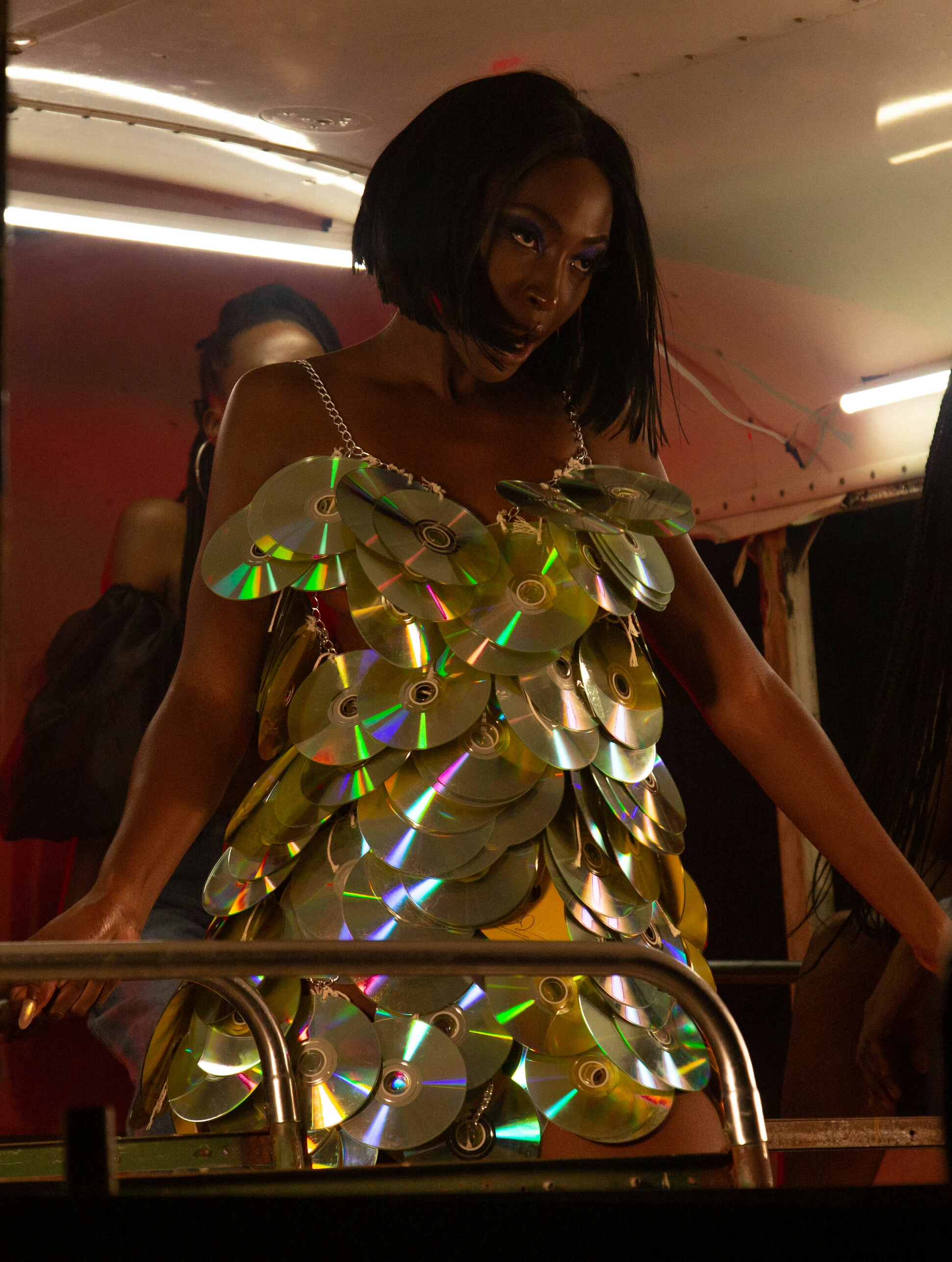 Scene 3:
Black and white is often seen as the good and the bad which is in all of us. Nevertheless, the message is that it shouldn't divide us, but rather unite us. The stereotype around women is that they cannot get along or support one another and this scene aims to disprove that.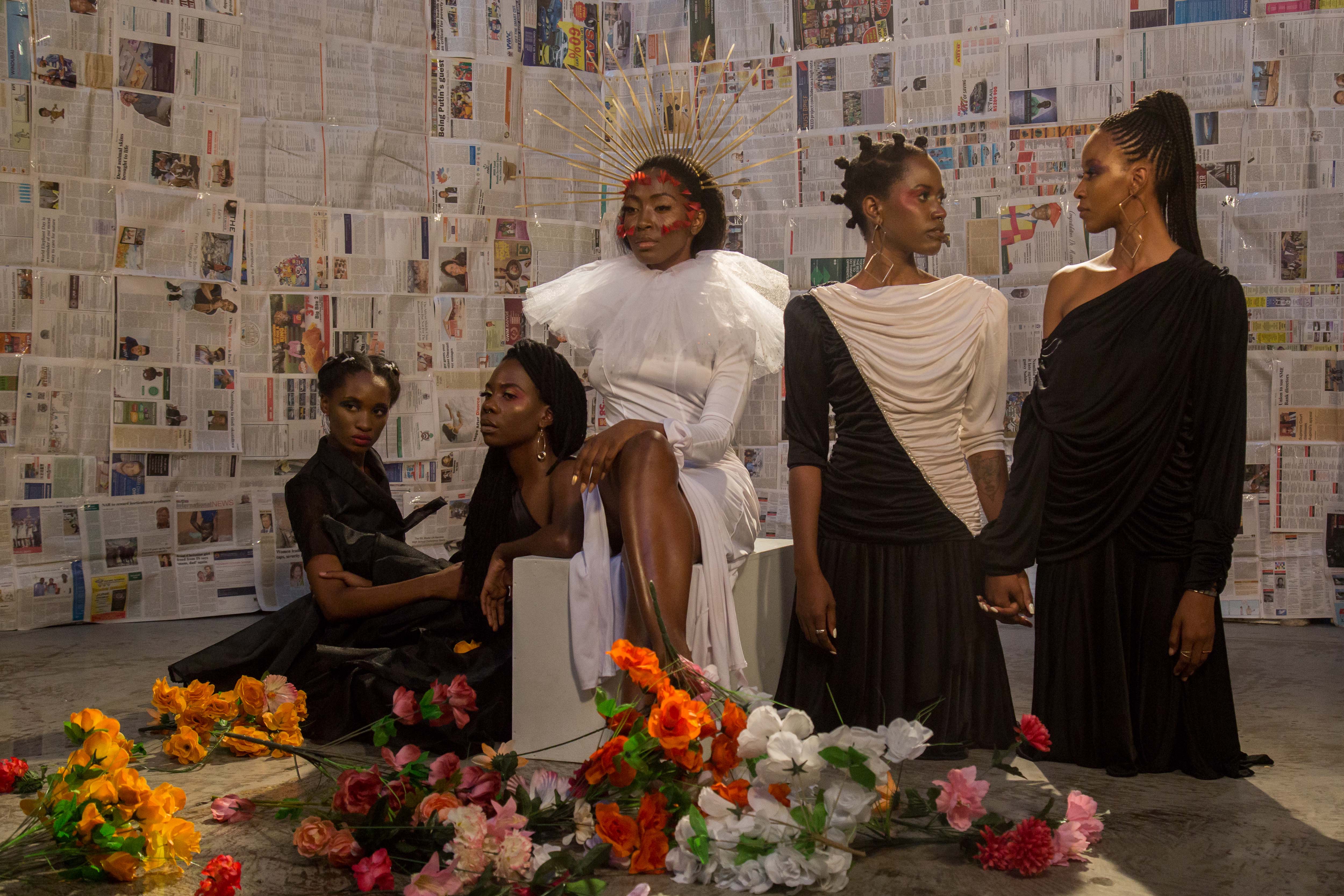 With the final scene we really wanted to create strong visual representations of black women. We put them in an art gallery because as Solange said, seeing black women as avant-garde beings in a world that puts them in a box is really important.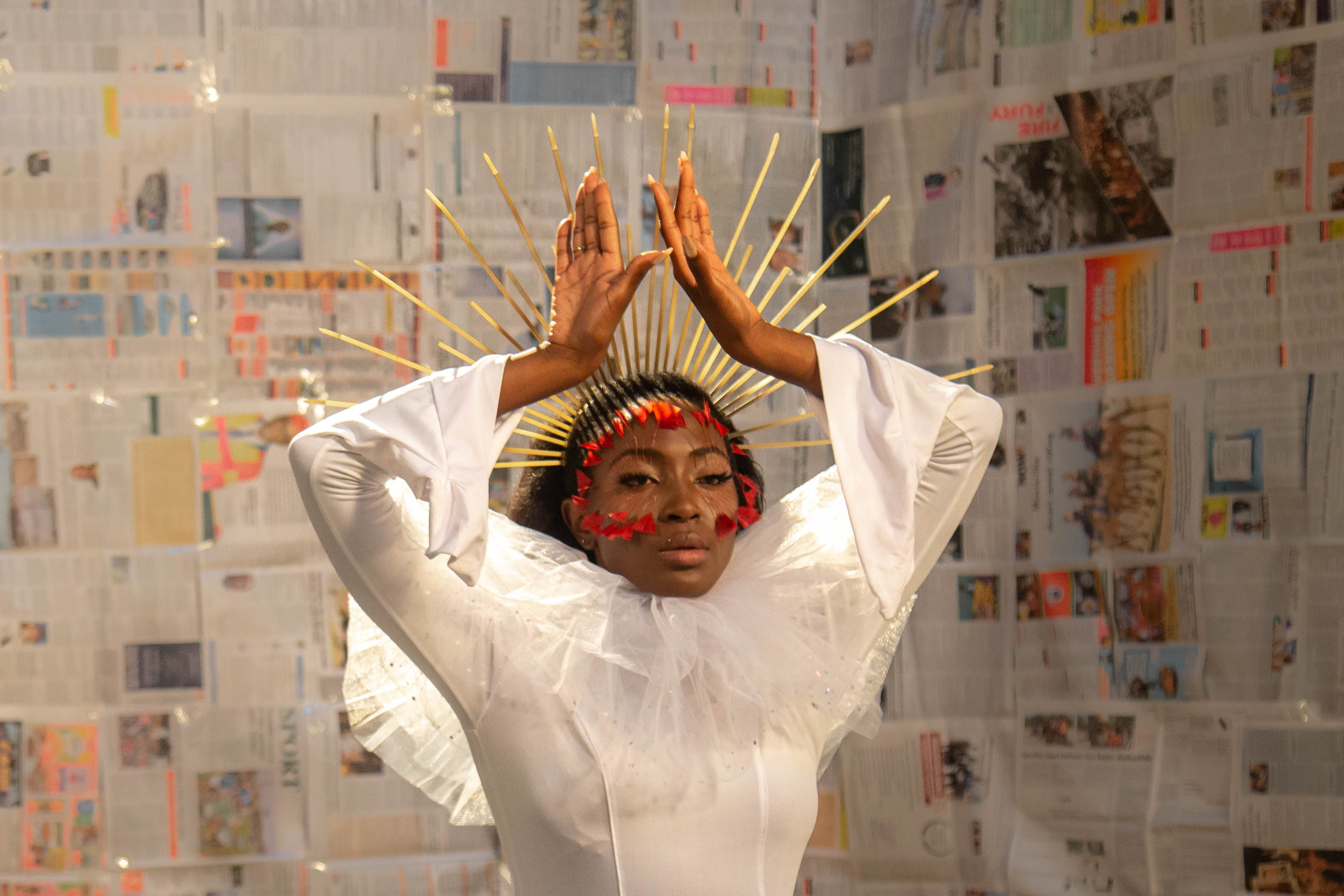 In this final scene we really wanted to be bold with how Lioness was styled. We put her in a long sleeved white dress and added a white tulle neckpiece as well as a handmade crown to drive home the idea that she's really a goddess in this art gallery. For drama and mysticism, we accentuated her eyelashes with fake feathers.
Overall the stylilng is very much motivated by notions of Afropunk and our natural African inclination to analyse and redefine things to make it our own.
---
CREDITS
---
"Tala" is available on all streaming sites and for purchase on iTunes!