By Elzaan Nel
I recently got invited to attend a Master Class food and wine pairing dinner with Cathedral Cellar – which is part of KWV wines held at the breathtakingly beautiful Livega. Presented by the chief wine maker himself – Wim Truter and Gilda Nujoma – the head chef at Livega.
The evening started off with a welcoming drink consisting of KWV Port – also known as the Cape Tawny Dessert wine with a dash of soda. A pleasantly sweetish drink with aromas of dried orange and caramel with a lingering marzipan aftertaste.
I got a seat in the beautiful veranda, sipped on my drink while enjoying the sounds of Oompie – a local artist.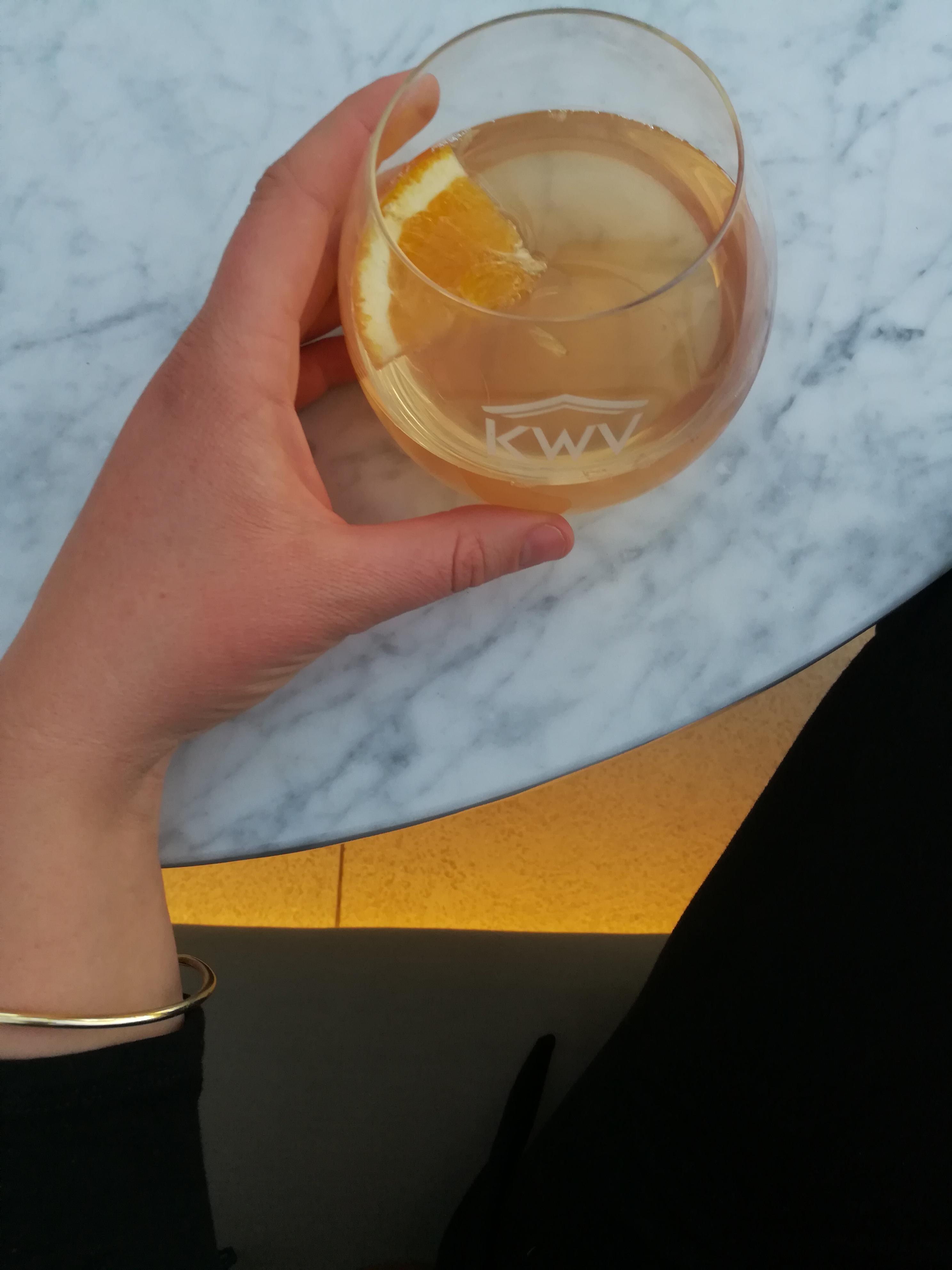 Just before the sun set I moved to my table accompanied by other local bloggers and writers. While glancing over the menu my taste buds started salivating with excitement for what the evening had to offer.
The first course was the creamiest velvety soup I've ever tasted in my entire life. I kid you not, I'm still day dreaming about this soup.  It was a Asparagus Velouté with Walnut-Parsley Pistou served with a cheesy crunchy bread stick.The creaminess of the soup paired very well the crispness of the Sauvignon Blanc.
This was followed by Beet Cured Salmon on a bed of Creamy Herbed Cucumber and a glass of Chardonnay. The sumptuous salmon and buttery chardonnay was a perfect combination. Cucumber and salmon has always been one of my favourite combinations.
The main course  was Beef Loin Roast with Blistered Cauliflower, anchovy, garlic and chili. The combination of the sweet cauliflower was a perfect pair with the spicy Shiraz. The beef was a little bit chewy for my liking but the flavours where still good.
The dessert was the highlight of my evening – buckwheat crepes with sautéed apples and toffee sauce paired with a Noble Late Harvest. The sweet dessert wine, paired with the toffee sauce and apples, was to die for!
Just as I thought our evening was done we were surprised with a dish called Cuvee Brut delight. Which I thought would be a glass of champagne, but to my delight it was a second dessert! Strawberries, cream and chocolate paired with a glass of KWV cute Brut – the perfect end to a delightful evening.
What a stunning evening with food and wine – I will most definitely be visiting Livega again soon!
Want to know more about Livega  head over to:   (http://www.wheretoeat.com.na/Livega-)
---
Looking for more foodie inspiration or a place to eat / drink? Head over to Where to Eat Namibia's website or social media pages: