SPOILER:
What works for me might not work for you.  I know that's an annoying disclaimer-y thing that a lot of health people say… but TBH it's true. 
If only there was a formula for good health we could all copy and paste into our lives, right?
Not gonna happen.
There is enormous inter-individual variability in what we all need, nutritionally. And otherwise. 
A lot of different factors affect our eating requirements and our feeding behavior, including age, health history, physical activity, stress levels, hormone balance, gut bacteria, genes, work schedules, socio-economic status, life aspirations and our relationship to food.
I went back to uni for a Bachelors of Science degree in Nutrition, and I came out knowing this:
Everyone is different and there is no one diet fits all. Cool… So now what? 
I've since learnt to love the complexity.  My job as a lifestyle coach is to help people navigate their way through the pressures and contradictions and confusions of the wellness world. To separate the cream from the crap and help individuals create sustainable wellbeing in their lives.
Back to what I eat.  People think my diet is angelic and pristine because I'm a health coach. But the truth is I eat whatever I feel like.  That wasn't always the case. 
It took me years to get my body to take the wheel and drive my food choices. Years.  But here we are now:  I listen to my cravings, I tune in to my gut (literally and figuratively) and I eat according to the needs of the hour.  Sure, it helps that I crave mostly whole, unprocessed nutritious foods but that's not an accident or because I'm lucky. It's because over time I've brought my body back into balance in strategic ways and now it tells me what it needs. And I listen. 
And by the way, sometimes it needs an ice cold can of Coca Cola or a side order of fries and then that's what it gets.  Intuitive eating and food freedom is a WHOLE other complex can of worms, for another day (or post). 
For the most part, my weekday meals are pretty healthy and nutrient dense.
I eat mostly plant based  – the majority of my plate is a variety of vegetables, fruit, seeds, greens, grains or legumes – freshly harvested (I shop at the farmer's market), home-cooked and almost always colourful #eattherainbow. I usually get the whole spectrum of vitamins and minerals on my plate over the course of the week, from Monday to Friday.  
---
Here's what I ate and drank yesterday:
---
8:30 A huge glass of water.  I've gotten into the habit of filling a massive enamel cup (a 700ml size) with filtered water first thing in the morning and making sure i've finished that baby before I have my first cup of coffee. I had to kind of bribe myself into it (using coffee, of course) but now it's an easy habit. I use a Brita filter plus a kurbo stick in there overnight so this water tastes like I'm drinking it straight from a natural mountain spring somewhere clean, like Iceland…
Often we confuse thirst in the morning with hunger or fatigue and then reach for breakfast or a coffee instead of giving the body what it really needs first:  some good H2O. 
9:15   The moment arrives… My first coffee. To say I love coffee is an understatement. My first coffee is the highlight of my day.
I usually have it black (if I'm doing a morning fast) or elser blended with some almond butter, tahini, MCT oil and a sprinkle of cinnamon. (I've weaned myself off regular cow milk consumption). Love cheese but can live without milk these days. Milk is sweet. It raises blood sugar and in general I like to keep my blood sugar steady, not spiked.  
This is one of my main goals, nutritionally: to keep blood sugar spikes to a minimum  That's why I generally avoid simple carbs and sugary, processed things, eating mostly good fats, protein and fibrous vegetables. Stable blood sugar makes for better focus, better balanced hormones, less anxiety and deeper sleep. It's a win for mind and body. 
13:30

  LUNCH
This is one of my go-to fast snacks or quick lunches at home. Seed toast (or Seed crackers from Life Bake – I get them crackers at Dischem) with farm butter (optional) and a lot of avocado on top. And whatever other quick easy toppings I have (sauerkraut or kimchi usually for #guthealth) Crispy nitrate-free bacon, tomatoe slices, some goat's cheese, or even sardines (#omega). Always sea salt, black pepper, and chili flakes.
So good and satisfying and immediately lets me stay focused on work without needing a post-lunch nap ( if my lunch has gluten or trans fats in it my concentration takes a nosedive and I experience something that feels like brain fog)  These seed crackers with avocado have good fats from avocado, and a lot of filling gut-loving fiber and lots of other nutrients overall (vitamin E, vitamin K, folate, copper, B6, and vitamin C)
SNACK: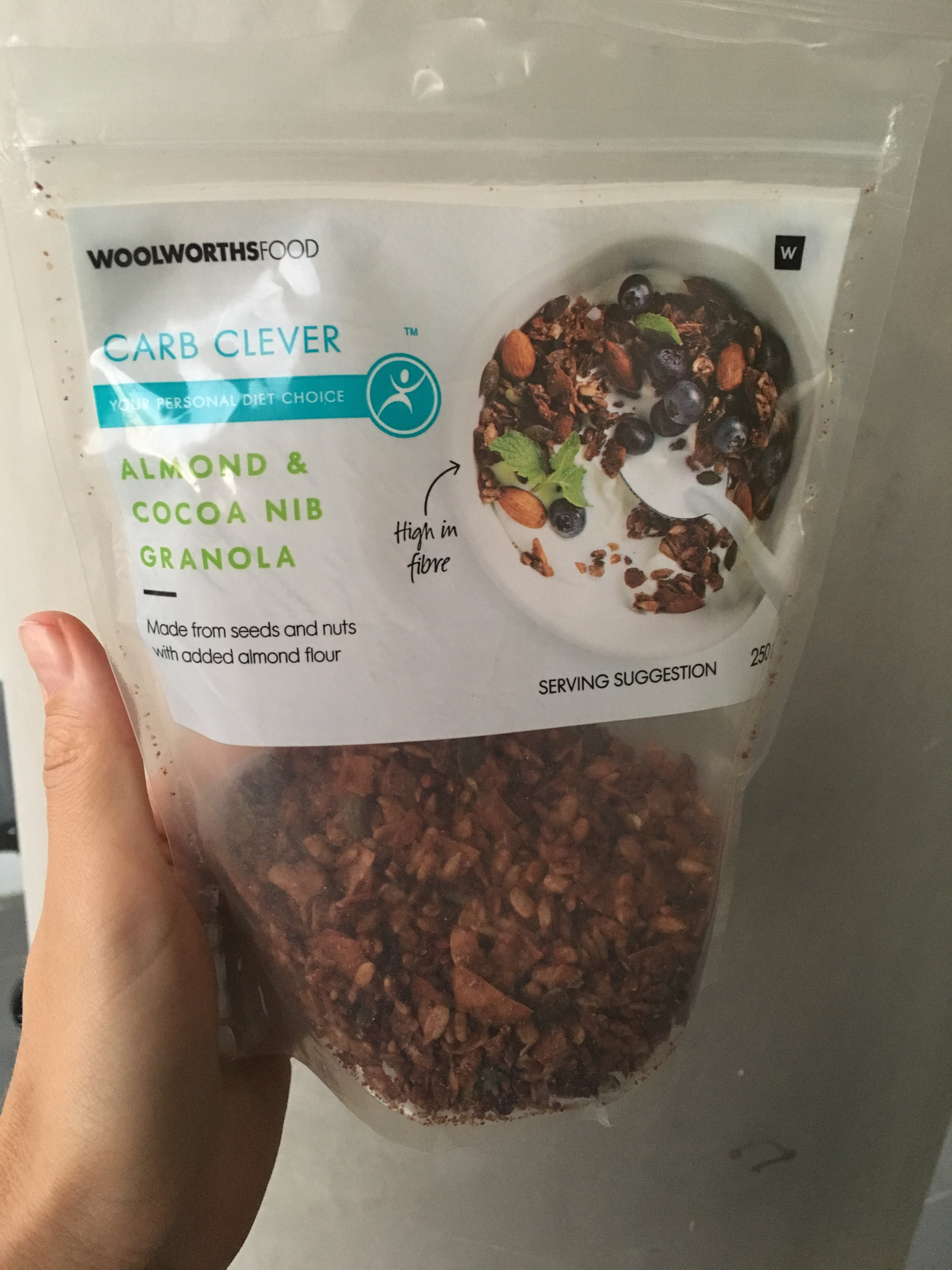 By 3 I'm obviously hungry again because lunch was small. I end up having some biltong (a regular snack in my life), and 2 handfuls of this carb clever cocoa granola (picured). Just dry, without milk or yoghurt.  Cacao is having such a spotlight moment in the wellness world. It's a major antioxidant (antioxidants protect the body from ageing and disease caused by free radicals). I love raw cacao in smoothies (with half a frozen banana, a few berries and a scoop of plant-based protein powder) or a square or 2 of dark chocolate after dinner. 
DINNER: 
Making dinner is almost always an occasion in our home. A creative outlet, a self care practice and a social activity with my partner or if I'm cooking alone, a moving meditation. 
This time I made a beautiful burrito bowl (note: my dinner isn't always this photogenic and insta-worthy.. Sometimes it's brown lentil soup…)
This burrito bowl has all the flavor of a good hearty burrito wrap, minus the wrap….
It's mexico in a bowl. Just add a Margarita. 
There 's the spicy flavorful mexican-style mince, the beans and brown rice, the crispy crunchy lettuce, some fresh tomato and onion salsa and then of course a generous 'dollop' of sour cream on top  and enough (half of an) avocado.
---
To see what else I eat, find me on the gram and see my saved insta stories (What I Eat). I cook often and love making new things to feed myself and my family.  Follow along there and share your meal ideas with me too! 
---
Klara

 is a holistic nutrition and lifestyle coach with a  
BSc (Hons) Nutritional Therapy Degree from CNELM and Middelesex Universtiy in London.  Her gift is to distill the 
principles of optimal health down to its most foundational 
basics, ones that are accessible and easy for us all to follow.  



Klara

 has worked in the UK, Luxembourg, and most 
recently New York where she wrote and coached at 
Parsley Health – an innovative membership-based 
medical practice that combines conventional medicine 
with nutrition and cutting-edge medical testing.  



Klara

 divides hert time between coaching clients, leading 
corporate workshops, teaching yoga, cooking and 
developing recipes, and writing for a number of leading 
wellness sites on modern self-care and radical well-being. 

Find her on her quirky offbeat Instagram feed where she 
shares straight forward, evidence-based nutrition and 
lifestyle advice. 

And join her annual Windhoek Mind Body Reset here!