by Elzaan Nel
The day I started writing for Monochrome magazine one of my dreams were to go to  a lodge for a review. When Journey's Namibia invited me for the weekend at Auas Safari Lodge I was beyond excited! I packed my bags and before I knew we were on our way to this beautiful lodge situated in the Auas Mountains.
A mere 40min drive from Windhoek towards the Auas mountains and you arrive at the lovely Auas Safari Lodge. We were greeted by Linus who was patiently waiting for our arrival with some juice as a welcoming drink.  We checked in and walked around the beautiful property until it was time for lunch. Freshly prepared by their in-house chef- Gerson. We had grilled chicken, french fries and fresh crunchy salad served with homemade salad dressing – a simple yet tasty dish. As always I had a glass of dry white wine to go with the meal and my partner a beer.  I realize now more and more that I prefer simple tasty food – no foams, powders and mini portions- just good food.  The lunch tables are situated right in-front of the watering hole- and it providing great entertainment for everyone!
We  spent  the afternoon soaking up the sun and reading- my perfect idea of a winter afternoon. Just before I dosed off I  started smelling that familiar smell of coffee- probably one of my favorite smells in the world. To my delight it was 3pm and time for cake and coffee. (Which is complimentary to in-house guests). Home baked chocolate cake and black coffee, a perfect bitter-sweet symphony. Afterwards we went for a walk around the property and I had a look at their vegetable and herb garden. I was obviously very impressed at the initiative as well as their recycling setup. We went for an afternoon walk and enjoyed the sunset painting the Auas Mountains in different hues of indigo and violet.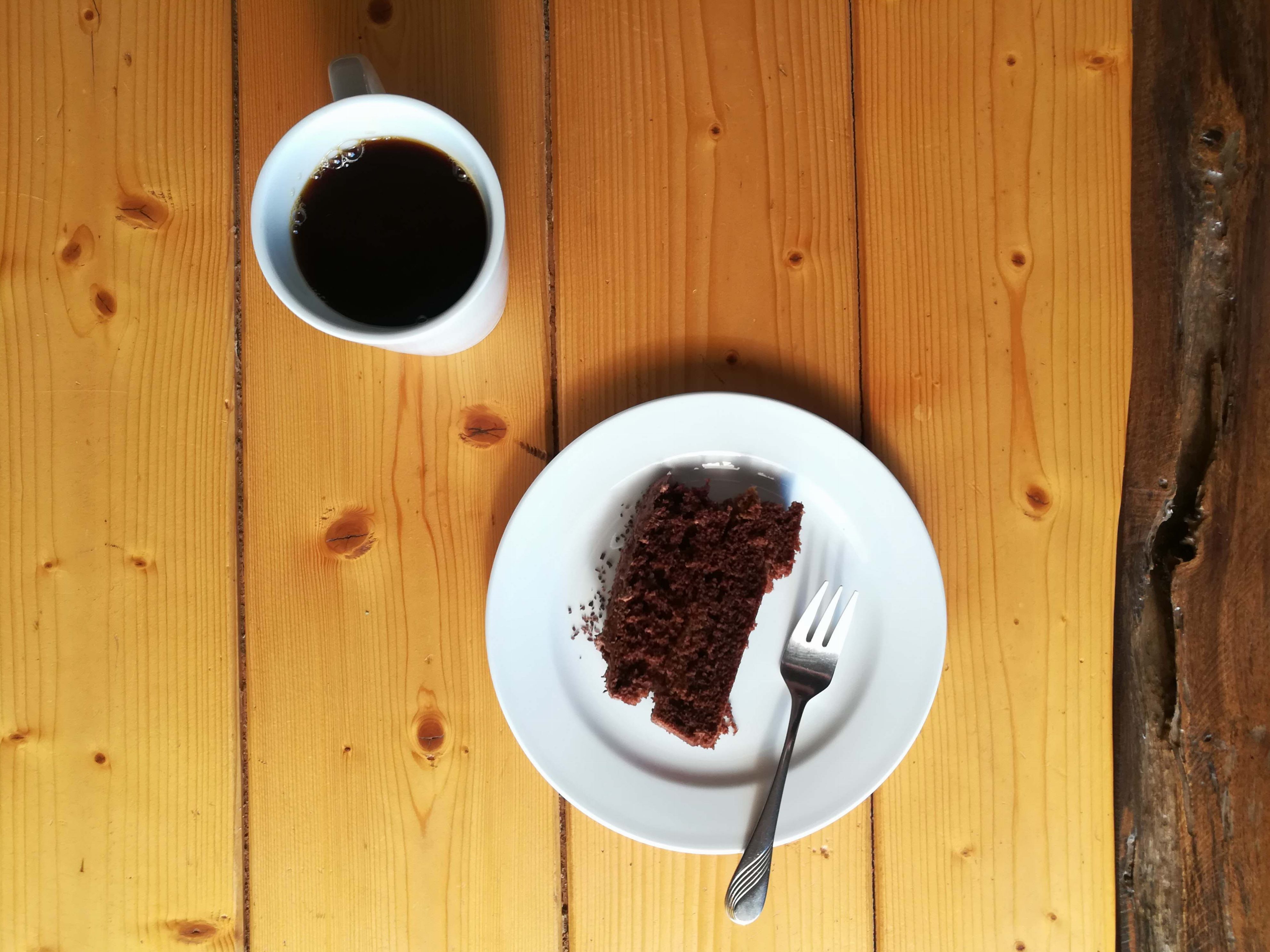 It wasn't long until it was time for dinner. We sat outside and enjoyed  a glass of wine around the fire while a lovely 3-course set menu was awaiting us. For starters we had homemade game pie which was delectable followed by main course which was Kabeljou with fresh vegetables – fish for dinner on a game farm was a little bit questionable but still delicious. We enjoyed our creamy tiramisu while being entertained by the staff singing some local Nama songs. The highlight of the evening was arriving back at our room to find the fireplace lit up- warming up the room.
The next morning we slept in and went for a late breakfast buffet. We helped ourselves to some fruit salad, homebaked bread, coffee and ordered eggs from the kitchen. I think what I like most about Auas Safari Lodge is that they do so much of the stuff themselves- even the salami and rauchfleisch we had is all made on the farm. We took the morning to walk around the farm and enjoy a few hours in a hideout to wait to see some wildlife. After spotting some zebras, loads of birds and wild pigs we headed back to the lodge for a later afternoon Sunday Lunch.
The Sunday lunch is open to anyone- just make sure to book ahead of time. We got spoiled with a variety of braai'ed meat such as Lamb, Game Sosaties and Boerewors made on the farm. The side dishes was just as good. Garden Salad, Freshly baked bread, vegetables and probably the best polenta I've ever had. Followed by some good old baked brandy pudding with custard.
Overall the food was really good, the rooms were perfect and the staff is what made this such a pleasant stay. So if you've never been to Auas Safari Lodge make sure to make a turn next time you are looking for something to do over a weekend.
Until next time.
Your favourite foodie.
---
For their location and opening times have a look on Where to Eat Namibia:
(https://www.wheretoeat.com.na/Auas-Safari-Lodge)
Looking for more foodie inspiration or a place to eat? Head over to Where to Eat Namibia's website  or social media pages: