Sometimes I take forced breaks from my "That's BS" entries because you know,  LIFE. 
*sigh
So today I'm sharing what I'm currently busy or obsessed with.
In no particular order, currently I am…
---
Working on…..
A million things. Work's great but work is a lot on both fronts, Beso Media and Monochrome.
But the work is also very exciting. The McKane campaign we are working on has been so fun to put together and after our first show I'm excited to see the remaining 3 shows.
At Beso Media, I am also working on a campaign that rolls out in October for a local brand. I have conceptualized a digital campaign for them that I can't wait to execute. Please look out for that. *happy dance
There's so much I am working so just follow me on Instagram, I share stuff there sometimes. lol.
Wishing…
I had more time and  a bigger team.
Craving…
A 1 week vacation to a pretty town/city in Europe. Arg. *sobs
Wearing..
Anything and everything oversized. I found an ope market, where I can buy even more blazers than I already have. Beautiful over-sized male blazers. Just for N$140 and sometimes less.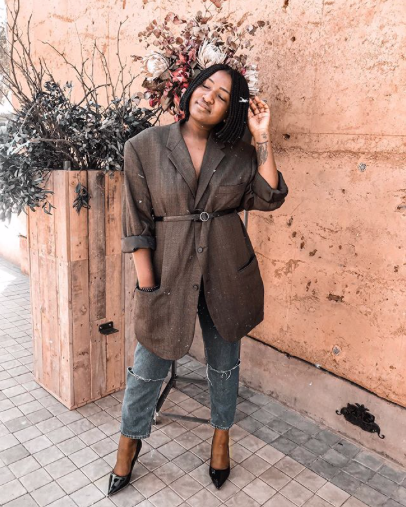 Happy about…
The growth in my businesses this year, progress with my fitness journey and seeing the results with my body.
Listening to…
Songs on rotation now are:
sagun x Trust Nobody ft Shiloh Dynasty
Reading…
Victoria decides to die by Paulo Coelho. Or trying to.
I joined a mobile library that lends you a book for 30 days, after that you pay a fee per day. And I've only read a chapter. Lol, guess who's paying money for a late book soon.
Inspired by…
All the activists fighting for women's rights. Educating the masses, putting together marches. Anyone doing something to make the world a better place.
I have been thinking a lot about the projects I want to get involved with. Yeah, design is great but I'd really like to dedicate some of my time to a great cause. Still looking for the right cause, I'll let you in once I've found one that speaks to my heart.
Irritated by
Rapists. Rape apologists. Men. Pick Mes. Victim Blamers.
Oh, and my sinuses. I feel like I'm dying every other day.
Loving…
Warmth. I'm so glad winter is over. I'm wearing my crop tops, shorts, dresses. All is bright and airy.
Aiming at…
Getting through this week with less stress than I did last week.
Excited about…
Attending Katutura Fashion Week and Film Week. Both happening this week.
Planning to..
To get serious with my YouTube content. I'd like to share more behind the scenes of the projects I work on and snippets of my life as a creative entrepreneur.
---
That's all for today.
Is there something you'd like me to write about? Let me know in the comments below.
Till next time,