By Hilma L. Inkono
Now that the colder months are approaching, people are opting for sweaters instead of tops, sneakers instead of sandals and most importantly coffee in the stead of colder drinks. Caffeine is a well-known stimulant in coffee that supposedly keeps one more alert and awake, hence, it's a go-to drink for many people when they require a boost of energy. Nevertheless, sometimes one merely wants to enjoy a hot cup of java with a good ambience and a lovely vibe. I visited 5 coffee hotspots that might suit your palate.
1. Seattle Coffee
At the mention of Seattle Coffee, the words comfortable and warm come to mind. Just like their hot drinks selection, the natural feel of the café located in Wernhil Park is inviting and indulged with dark hues such as the navy blue, similar to that of their logo. They sell the usual go to cups of coffee such as the Caffe Latte, Cappuccino, and Espresso. But you can always try something different with their various assortments and try a Caffe Breve or my most recent order, a Butterscotch Latte. It's the type of latte you would have whilst enjoying a crunchy cookie, of which you'll be in luck to find as they sell various treats to eat as well. I've found my lack of abs to be the result of their delicious red velvet cupcakes which are usually on display along with their chocolate cupcakes, but I really shouldn't pin that on them. However, since Namibia's weather can be quite changeable, they can hit you up with a nice cold beverage on a sunny day. You can try their Classic Seattle Freeze, Classic Mocha Freeze or one of my personal fave the Berry Freeze. When it comes to the atmosphere, it's perfect for team meetings as usually observed, hanging out with friends, reading a book or even grabbing a quick to go if your schedule does not cater for a sit down.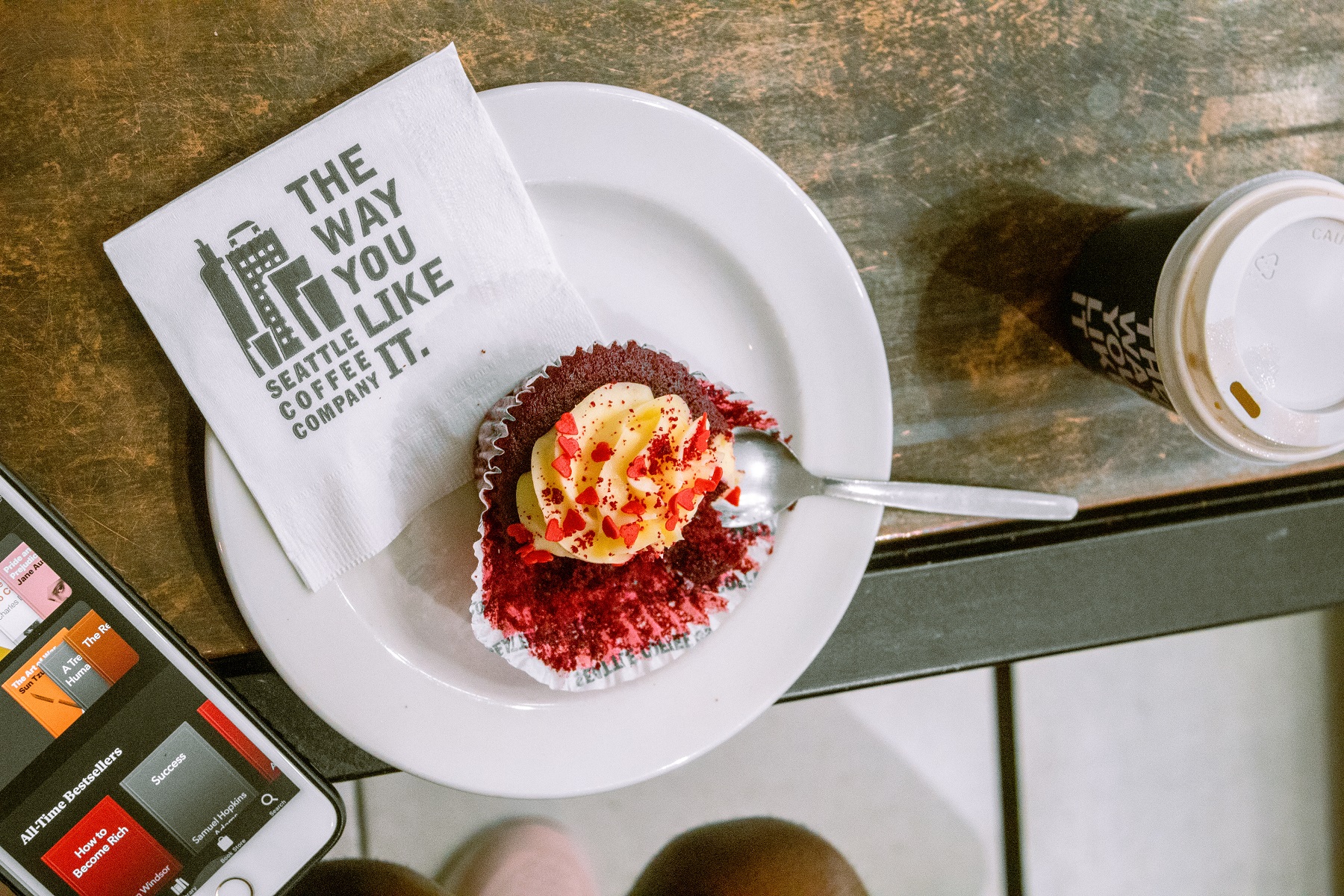 Additional Info: 
You can choose to swap caffeine for a decaffeinated drink, served with full cream, skinny or soy milk, plus loyalty points every time you visit.

Payment Options: 
Cash, Card, Pay Today

Other locations: 
The Grove Mall
2. Slowtown Coffee Roasters
Commonly referred to as Slowtown, located in Windhoek's Central Business District [CBD]. Offers you the choice of enjoying your cup of coffee outside, whilst enjoying a nice breeze or inside, surrounded by their urban interior. One thing I love about this place is the amiability of the barista's, even other paying customers[laughs], maybe there's something in the coffee that just shifts your mood into a sweeter pleasantry. One can purchase a bag of coffee if you'd like to brew your own at home or the office. They source different coffee beans from the likes of Costa Rica, Rwanda, Ethiopia and Nicaragua to mention a few. Thinking of their menu, I'm reminded of their Chai Latte [mmmhm], it's just what you'd like to have on a chilly Friday afternoon. The drink is refreshing, zesty and sweet. Contrastingly, if you want something strong and highly caffeinated try the Bulletproof, which is a coffee mixed with butter, oil and is thus a high calorie coffee drink. It's meant to help keep you alert and energized, but you can always get a double shot espresso if you don't want that much of a buzz. Slowtown also offers a range of cold beverages, in case you'd want something colder and, in that case, I'd recommend the Coffee Shake which is basically a coffee milkshake. They also sell treats like cookies and brownies, or you can opt for a sandwich for a more filling breakfast or lunch.
Additional Info: 
Offers Almond milk as a substitute, Take-away.

Payment options: 
Cash, Card, Pay Today

Other locations: 
Grove Mall, Maerua Mall,  Swakopmund, Walvis Bay
3. Café Prestige
Located in Freedom Plaza, Café Prestige has a very different feel from the aforementioned coffee spots. Instead of warm, brown tones the interior has a lighter and airier feel to it, with white walls covered by paintings. The paintings are from an art exhibition that is currently running, and the café is known to host monthly art exhibitions, in addition to events such as drag night and quiz night. The ambience is comfortable, filled with relaxing music. The inside is perfect for getting some work done or studying, whilst the outside is ideal for enjoying a glass of red or white wine, which they sell in addition to their alcohol beverages. They serve staple coffee drinks such as the Espresso, Americano and Cappuccino, but you can also get cold beverages such as the Iced Latte, Cold Brew Coffee [a bit strong for my palate] and an Iced Chai Latte [One can never go wrong when it comes to Chai Latte]. Café Prestige is known to be an inclusive and safe space, and they involve themselves in various community projects, such as raising funds to buy pads for girls who cannot afford them. As mentioned, it is lovely for hosting events and if you'd like to host an event contact info@cafeprestige.na.
Additional Info: 
Offers food options, Take-away

Payment options: 
Cash, Card, Pay Today
Follow Cafe Prestige on Instagram
4. Deluxe Coffeeworks
Due to its placement, I consider Deluxe Coffeeworks a hidden gem. Located next to the mutual towers on independence avenue, opposite zoo park. It is not quite easy to spot when travelling the streets of WHK's CBD, however it's worth the turn [Google maps is a friend to all]. If you ask me, I'd say barista's make or break a coffee shop and the barista happens to be very friendly and energetic or perhaps I spent too much time cracking jokes, either way I had a lovely time. She recommended that I try the Flat White because I wanted something small and quick to drink. It was a double espresso topped off with steamed milk, which I enjoyed surrounded by dark tones and hues. I'd suggest this place, if you want a more isolated area to enjoy a cup of coffee away from the rustle and bustle of the city. They also sell imported coffee from countries such as Malawi and Columbia. You can have a sit-down cup of java or a take-away and sip on it on the way back to work. If you're conscience about the environment [as we all should be], perhaps you might be interested in investing on a collapsible cup which they sell, to limit the usage of disposable cups.
Payment options: 
Cash, Card, Pay Today

Other locations: 
Klein Windhoek, Swakopmund, Walvis Bay
5. Twenty20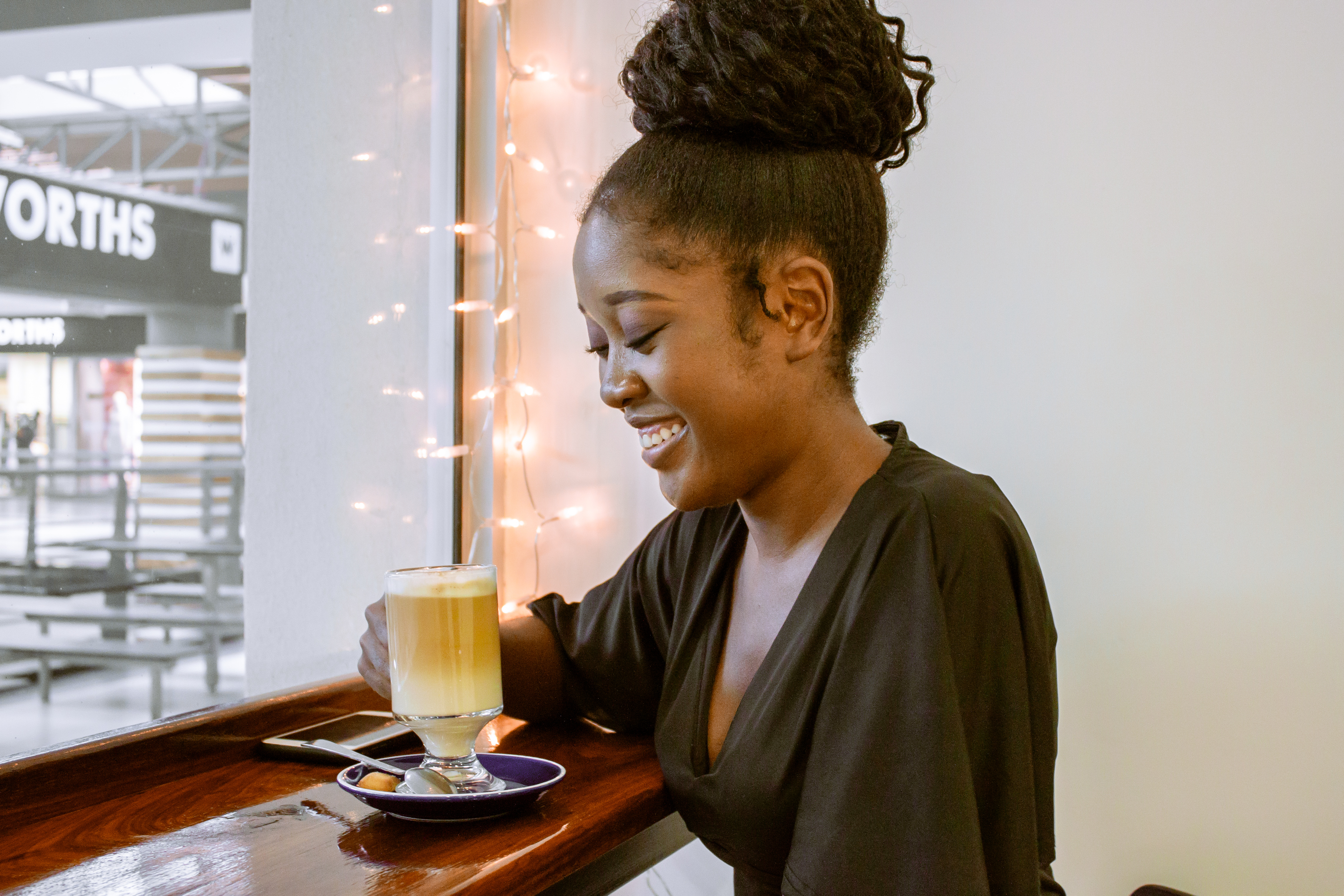 Located in Maerua Mall on the 2nd floor, adjacent to the food court is Twenty20. The interior design is very minimalist, and the ambience is super chill. There aren't a lot of distractions and that's why I consider it a good place to read a novel, and really get your tasks on your PC done [not just attempt to *winks*]. The Coffee shop and Bistro recently opened this year in March and so we at Monochrome decided to pay it a visit. I ordered the Vanilla Latte, which was sweet and had a nice aftertaste. For those who have less of a sweet tooth, you can always order the usual Brewed Coffee or a Café Americano. They also sell pastries, such as muffins, fitness pancakes and doughnuts. From the non-coffee selection, their berry smoothie seems to be a hit. When it comes to the breakfast/lunch menu, it is best to pre-order via DM or SMS for pick-up. Furthermore, their loyalty coffee programme gives you the 11th coffee on the house, after buying 10 coffees from them.
Additional Info: 
Take-away

Payment Options: 
Cash, Card
---
Authors Note:
As much as Coffee can help you feel more energized, improve physical performance and tickle your taste buds, it's best not to overindulge especially if you have a low caffeine tolerance. On average I would recommend 1-2 cups of coffee in a day, coffee addicts can probably push 3-4 cups, but 5 is definitely a caffeine crash trap. Trust me, I would know [laughs in reminiscence].
PS: We'll be giving away several coffee vouchers to our lucky readers to each of these spots, so head over to Instagram and turn your post notifications on. Good luck. 🙂
Featured images shot by Nadia Brendell