Cheeky is an exclusive, luxurious, and sustainable Namibian swimwear brand that exists to help build a future where women claim their bodies, in confidence and comfort. Their mission is to inspire acceptance and confidence through alluring and bold swimwear.
Cheeky was founded by two, female, Namibian commercial pilots, who go by B and Lî, now better known as the Cheek-E-Os. Belinda Hoebes aka B is the Head of Finance, HR & Legal affairs. Lî Rossouw aka Lî is the Head of Communication, IT, Marketing & Production. While B is fond of baking as her pastime, Lî is an avid puzzle builder, and together they enjoy reading, sushi, sunbathing and travelling. They officially launched their business on the 5th of August 2022.
Why did you start a swimwear business specifically? 
Both founders have an innate love for all things sun and swimwear, henceforth venturing into this avenue was a no brainer. It presented itself as the perfect opportunity to develop our own brand with its own identity and vision and to provide quality, well-fitting, edgy, and unique swimwear.
How did the name Cheeky come about? 
Cheeky is the perfect encapsulation of everything we want this brand to be. It combines just the right amount of class, edge, fun, playfulness, sass and sexiness that we want our brand and products to convey. And of course, it's a tasteful ode to our lovely derrières.
How has the journey of being an entrepreneur been? 
The best word to describe this journey is blessed.
Cheeky came from a very disappointing, sad and traumatic time in our lives and it truly turned the tables for us. While figuring out how to start a business from scratch with absolutely no knowledge was extremely challenging and at times felt defeating, this business gave us renewed hope and the possibility of a new dream.
It is a full-time, full-energy, all-encompassing commitment, a challenge and responsibility like no other, but it is also exceptionally rewarding. Seeing our hard work pay off, realizing our dream, experiencing love and support at the depths we have; and growing beyond our comfort zones as individuals, partners and leaders makes this journey worth every trial and tribulation. We now live in an abundance of opportunity and gratitude is our daily bread.
What are some of the highs and lows of being an entrepreneur? 
Never-ending fatigue and simply not having enough hours in the day  to complete everything are definitely at the top of our list of constant entrepreneurial challenges. However, truthfully, we have experienced very few lows on this journey thus far. Becoming entrepreneurs has allowed us to venture into a completely new avenue which has pushed us to be curious and to learn. It has exposed us to so many new opportunities and has put amazing people in our path. Another beautiful high for us is the platform Cheeky has given us to create change and be impactful.
Are all your pieces made from recycled plastic and fishing nets?
Indeed they are! The aspect of sustainability is one of Cheeky's strongest feats. Our production takes place at a green manufacturer, our swimwear is fashioned out of recycled ocean waste, our distribution bags are made of recycled cotton, and our dyes are natural and sustainably sourced.
What do you hope to accomplish with your brand? What message would you like to convey? 
Cheeky was never intended to be just a swimwear brand. Yes, we sell beautiful, luxurious, sustainable swimwear, but to us, this is far more than simply selling a product. Cheeky is destined to be a story of the reclamation of our bodies and self-confidence, a story of hope, faith and resilience, a story of inclusivity and acceptance, a story of charity, community and belonging, and a story of equality and empowerment. Cheeky is bound to be an empire driven by guts, grace and gratitude.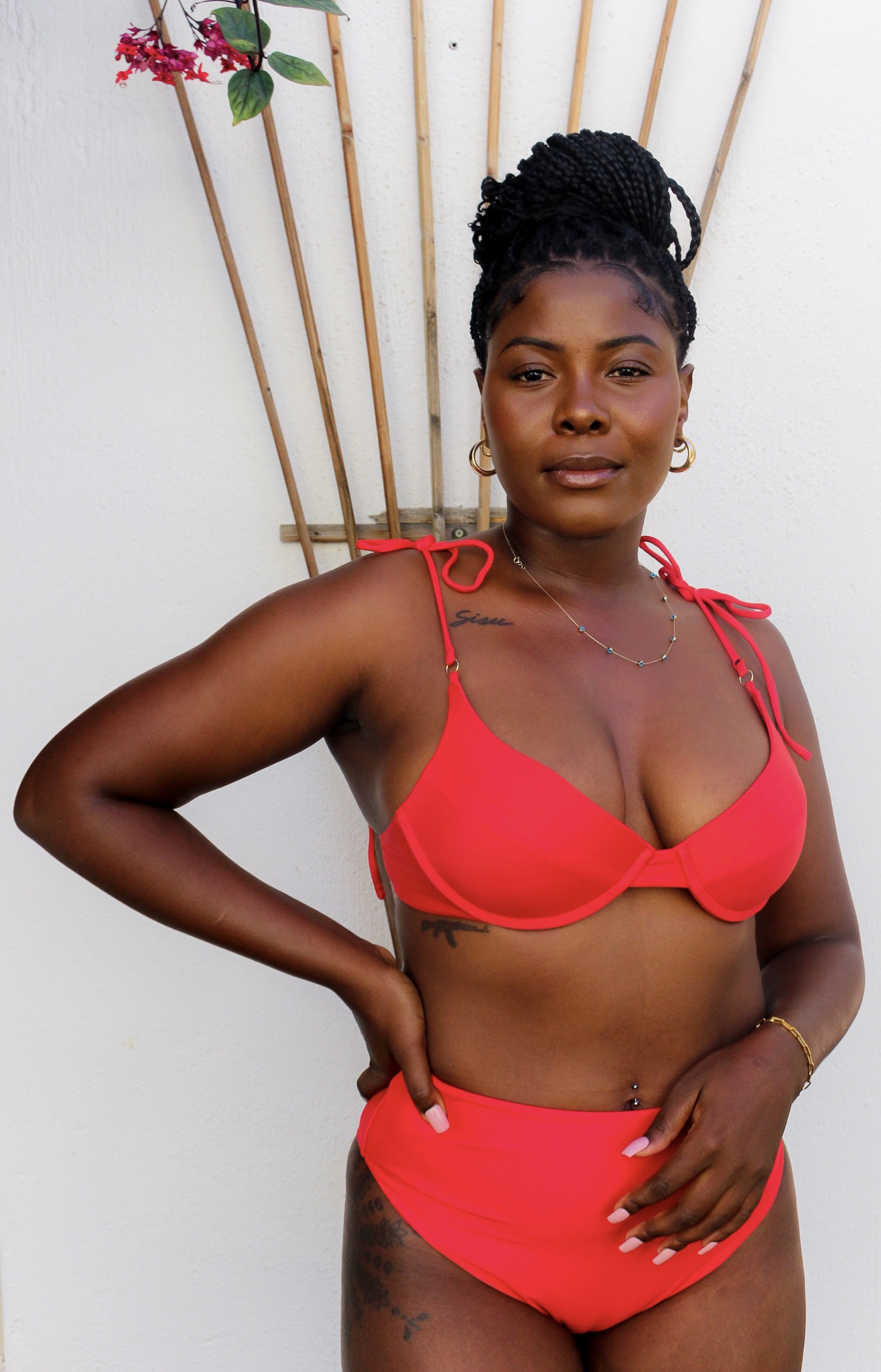 What are some do's & don'ts you would recommend to first time business owners?
There are so many and not one recipe suits all business; I'll focus on the do's.
Pursuing a clear and concise brand strategy that highlights your vision, mission and purpose is imperative. Having these aspects clearly and concisely defined allows one to have something to constantly and consistently work towards, and always serves as reminder to stay true to your brand and what you'd like to accomplish with it.
A brand strategy, when done correctly, allows the customer to better understand what you stand for and aids them in building a personal and relatable connection to the brand.
Always focus on your customer; provide exemplary customer service and remain focused on their needs. Continue to be innovative, flexible and adaptable to changing conditions and circumstances. Ultimately, choosing a business idea centered around your interests and passions helps when adversities creep in.
How does one order an item from your business and how long does it take to receive the product?
You may place an order through our online store: www.ch33ky.shop. We have three payment methods available, namely PayToday, Bank Deposit and direct electronic payment with a debit/credit card. Orders are processed once payments are successfully cleared and delivery varies between one to three days. We also offer a free pickup service throughout the week for our customers based in Windhoek. All our swimwear is in stock and ready for worldwide shipping.
Business on our radar aims to highlight established as well as up-and-coming businesses. If you would like to be featured on our column please email us: info@monochromemagazine.net