If you were on our Instagram yesterday you'd know we had the time of our lives, virtually enjoying Cheroldine Kanana make us her favourite Lamb Stew dish.
Lucky for you we have the recipe!
---
Quick chat with Cheroldine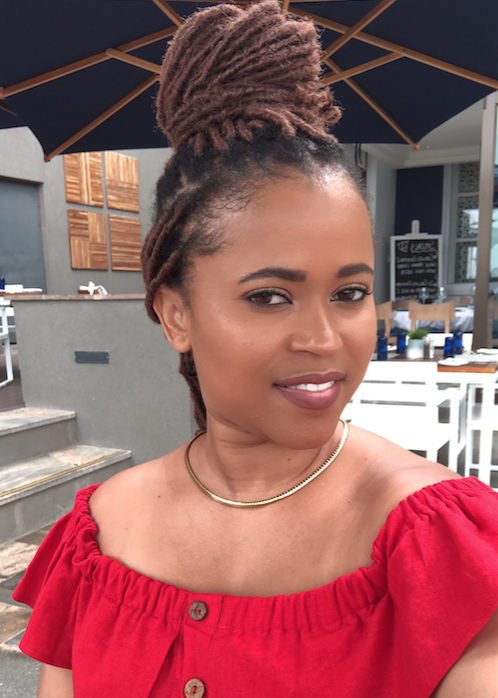 ---
Why do you love cooking so much? How did you get into it?
I honestly don't know if I love cooking or if it is something I do because my family has to eat. I never think to myself "oh let me go cook now because I love it". Also, I'm never one to jump at any opportunity to cook. I got into cooking in 2013 really. That's when I started experimenting with different flavors and dishes. I learnt how to cook from watching my mom cook.
What are your plans? Will the rest of the world get to taste your food?
My long term plans are to open a 12 seat exclusive eatery one day. Where nobody knows what's on the menu until you actually get there. You will have to be a real open minded foodie to dine there. Currently, I have a catering business called
Yum Yum Catering
where I would deliver daily dishes to different people. I closed it during the preparation time of my wedding. I plan on relaunching it by end of January as my clients are on my case to open it.
Tell us about your food review page…
I am not one to shy away from writing a review of my experience to the restaurant itself, whether good or bad. I believe this is a way a restaurant can improve the services they provide to clients.
My page
was intended to do just that and also at the same time share my dining experience with my followers.
I hope to be that person a restaurant calls when they are introducing a new dish or when they want to change up their menu or something like that. A girl can dream right?
---
Cheroldine's Lambstew & Dumplings Recipe:
---
Lamb stew ingredients:
2/3kg lamb stew meat
1 large onion diced
1 green pepper deseeded and diced
3 gloves  minced garlic
2 medium sized tomatoes
5-6 potatoes pealed and quartered
3-4 tbsp oil
3 tbsp tomato paste
2 tbsp ground coriander
1 tbsp smoked paprika
1 tbsp Italian Herbs
1 tbsp sugar
Salt and coarsely ground black pepper to taste
Hot water as needed
Ingredients for dumplings:
3.5 cups of All purpose flour
1/4 cup sugar
1 sachet instant yeast
1 tsp salt
1 cup lukewarm water
Start with lamb stew:
1. Heat oil in a large pot on medium high heat, sear meat until brown on all sides. Do this stage in batches as not to overcrowd the pot, to avoid meat steaming instead of searing. Remove from pot.
2. In the same pot, sauté onions and peppers until tender, add garlic and cook off for 1 minute.
3. Add browned meat back to the pot along with all the spices and stir for another minute.
4. Add tomatoes, tomato paste and sugar and cook until tomatoes release most of their liquid.
5. Add potatoes and about 2 cups of water, turn heat to low and let it simmer while you make your dumpling dough.
6. Keep adding water while the dumpling dough rises.
Dumpling recipe:
1. In a stand mixer, combine all dry ingredients and stir well.
2. With your dough hook attachment on, slowly start to add the water until dough forms into a ball.
3. Keep kneading for 10 minutes. About 15-20 minutes if kneading by hand.
4. Transfer to a well greased bowl, cover and let it rise for 45 mins to an hour.
5. Once the dough has risen, form into golf ball sized balls and place it on top  of the simmering stew (which at this point has thickened nicely)
6. Cover and let dumplings cook for another 30 mins.
7. Stick a toothpick into one dumpling and test for doneness. If the toothpick comes out clean, the dumplings are cooked and ready to serve.
8. Plate up and serve.
9. Enjoy.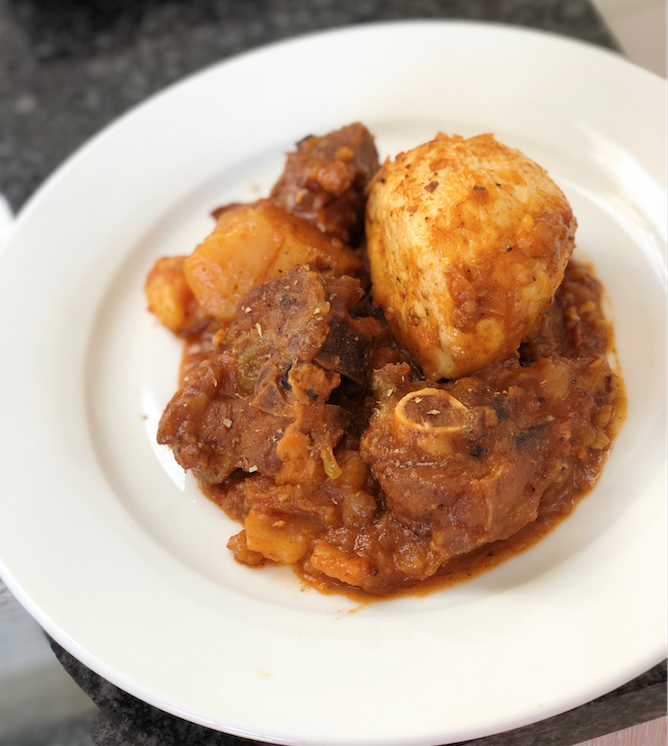 ---
Follow Cheroldine on Instagram to see what else she cooks up: