This just might be an inspiring love story that was created by the Yashena Textile Accessories founders Peya and Pena you don't want to miss.
Azo Photography  | Model Selma Kamanya |Dressed by The Sequel |Styled By Aubrey Stylings 
African textiles such as the Kente from Ghana and Dashiki from Nigeria/West Africa have made their mark not only on the continent but the world. They have been re-purposed from traditional attires to modern clothing and accessories, while still respecting their cultural roots.
These are the words you will find on the Yashena Textile Accessories web page and we couldn't agree more. We wanted to find out more about the inspiration behind the brand and share some of their thoughts on how it is like to establish a brand that is re-purposing the Oshiwambo Odelela textile.
Happy read!
M: Tell us a little more about your brand?
YTA: Yashena Textile Accessories is a brand that has been inspired by the growing presence of African textiles in modern fashion. It's driven by current discourse on the past, present and future of African culture, which can be expressed through attire and fashion.
M: Who is behind the brand?
YTA: Yashena is the creative collaboration between Namibian twins, Peyombili and Penohole Brock. While always being creative individuals, neither of us went into the arts. Both of us are currently pursuing different careers in social development; health, education and gender equality; however, Yashena has given us the opportunity to explore and nurture our potential as entrepreneurs, as well as be an innovative outlet for our creativity.
AM Photography | Models Penohole and Peyombili Brock| Accessories Yashena Textile Accessories
We were born and raised in Windhoek in a very diverse family setting; our mother being Oshiwambo and our father being of German descent. Through our mother, we came to interact with and appreciate our heritage and culture. This included the Ondelela dresses and fabrics, which have been the focus of our brand. The concept of Yashena was born in Dakar, Senegal, in 2017 however only became a reality end of 2018.
While living in Dakar, we instantly fell in love with the markets' vibrancy, authenticity and versatility. We saw an opportunity to explore our beloved Ondelela fabrics in this setting and focus on accessories to complement the Namibian fashion industry where the Ondelela fabrics had been evolving towards contemporary African fashion.
M: When did this all start date?
YTA: It took us about a year to explore our options and work with different Senegalese tailors who produced various prototypes for us. From here, we began narrowing down to our best working relationships and start producing on a larger scale. We launched our business brand in December 2018 and haven't looked back since.
M: Who is a YTA client?
YTA: What is great about the Ondelela fabrics is that they are loved and worn by so many age groups. While we originally targeted our brand for young women who we saw wearing Ondelela fabrics in more modern styles, we were pleasantly surprised to see that so many women and girls have expressed interest in our accessories. 
We have accessorised brides and bridesmaids, the Namibian High Commissioner to the UK at the Namibian Annual Women Summit, Che on the Tribe, and Lize Ehlers. Because we do our own deliveries we get to interact with our clients and we cannot narrow them down. We have delivered to; from teenagers to retired women, locals to tourists, for formalwear to everyday attire.
Because our Yashena designs have focused on female accessories, our current clientele is mainly Namibian women. However, for our third collection, we hope to expand this to include Namibian men as we begin to experiment with male textile accessories. 
M: How important are textiles in Namibia? What does that look like for the Fashion Industry?
YTA: Textiles are important to Namibia the way they are important to many African countries; they have become part of our growing cultures. Fashion is a huge part of culture as it's an expression of what group you belong to or which group you wish to celebrate.
The use of Ondelela textile in contemporary fashion allows the Namibian Fashion Industry to have a sense of individualism, which is grounded in the celebration and evolution of its own culture. Originally, the Oshiwambo groups wore leather and hide, and accessorised in copper and beads, however, began to introduce the Ondelela fabrics when the Finnish began to trade these materials before German colonialism. The Oshiwambo women would dye these materials pink and it became a part of their traditional attire.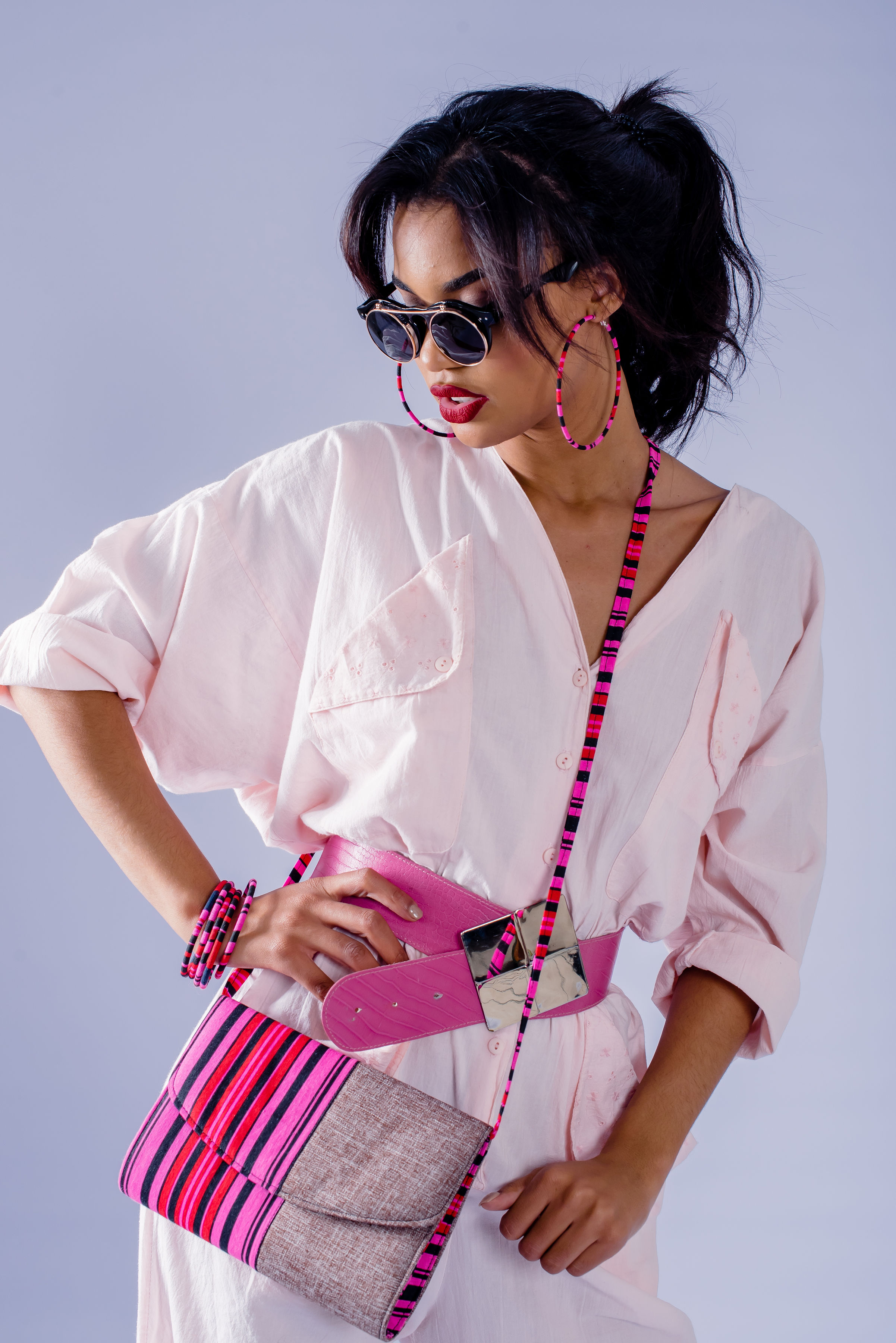 Azo Photography  | Model Selma Kamanya |Dressed by The Sequel |Styled By Aubrey Stylings 
Fashion and culture are forever evolving, and while it's important to respect the roots and authenticity of the Ondelela skirt and dress, we think it's important for younger generations to take on their own interpretations and wear these textiles with pride. African textiles are making their mark in fashion on a global scale, we would like to part of that alongside other Namibian designers who have been promoting the Oshiwambo materials. We also think that these fabrics can be celebrated by all Namibians, not only Oshiwambo speakers, as we think Namibians ought to celebrate our diversity and not be exclusive.

M: What is the secret behind starting an accessories brand? What advice would you give someone who wants to start one? 
YTA: I think our secret to starting an accessories brand is
think your business through but don't overthink it.
If you have a promising concept, at some point you just have to take a leap. While it is important to set targets, accept that you cannot plan every little step. As you go, you will learn. We have been so fortunate to have people in the fashion industry in Namibia reach out to guide us, cheer us on and motivate us. Because the fashion industry in Namibia is young, we have found it to be inclusive and accessible as so many people want to collaborate and expand. Never be too proud or too scared to ask for help as you never know what doors this may lead to.  
While trusting yourself has been our main secret, there will always be moments of insecurities and setbacks. We have had our fair share of those. What has worked best for us is our partnership as twin sisters; Yashena would be impossible without the reinforcing support from each other. It's so important to have a partner or a support system that eases your doubt and reminds you of your potential, especially at the beginning. 
M: What is next for Yashena? Future plans.
YTA: Ultimately, we want to continue expanding on our designs and on the materials we use. We have always had the goal to localise our production entirely as our journey continues. This would mean more collaboration with Namibian designers, tailors and entrepreneurs.
Right now, we are excited about using 3D printing with Printhoek to manufacture our bases for some of our jewellery. This is also an exciting venture for them as they have never printed in the fashion industry.
This is what it's all about, untaped endless possibilities for creation and innovation in Namibia
Photographer Mandy Rigwood | Models (Left to Right) Ideline Akimana, Mwalunga Mashipepe, Peyombili Brock .
---
For purchasing products, you can browse and shop online on our website www.yashenatextileshop.com, or you can visit Nikola Conradie fashions, Rev. Michael Scott Str. Freedom Plaza Shop 3 in Windhoek. For further inquiries, ideas or opportunities, you can email us at yashena.nam@gmail.com.
Yashena Textile Accessories social media
---