We don't know when exactly we fell in love with the beaut but ever since she appeared on our screens Maria Nepembe caught our attention. And then went on to make the rest of the world fall in love with her too. She is an entrepreneur today but she's also one of our favourite fashion it girls! We caught up with the gorgeous model/actress/host/reality star/business woman Maria Nepembe, who let us in on the plans she has for her brand and more and more .
So. How has life been since BBA?
Life has been good. Big Brother opened so many doors for me and I will forever be grateful for that.
What are some of the things you did after BBA that you are most proud of?
Launch my fashion brand RIA by Maria Nepembe, establishing the Nepembe Foundation and meeting so many amazing people.
Talk to us about your brand "Maria Nepembe"… what does it mean to you?
Means a great deal to me as a woman especially and a driving force for my work ethic.
 Plans? Goals for it?
To keep growing it.
What are your thoughts on the entertainment industry in our country?
We stepped up our game of recent but it is a growing baby and we still have a long way to go.
What do you appreciate? What would you take away?
I appreciate the diversity of it. I would definitely take away the hate in order for us to positively grow as one.
What needs to happen?
Criticism is good when it is not ill-intended and as Namibians we have a way of breaking down those that are trying something. That way we won't grow. Let's inspire, motivate and invest more in our industry as it is still just a crawling baby.
 Talk to us about your love for fashion? When did that affair start?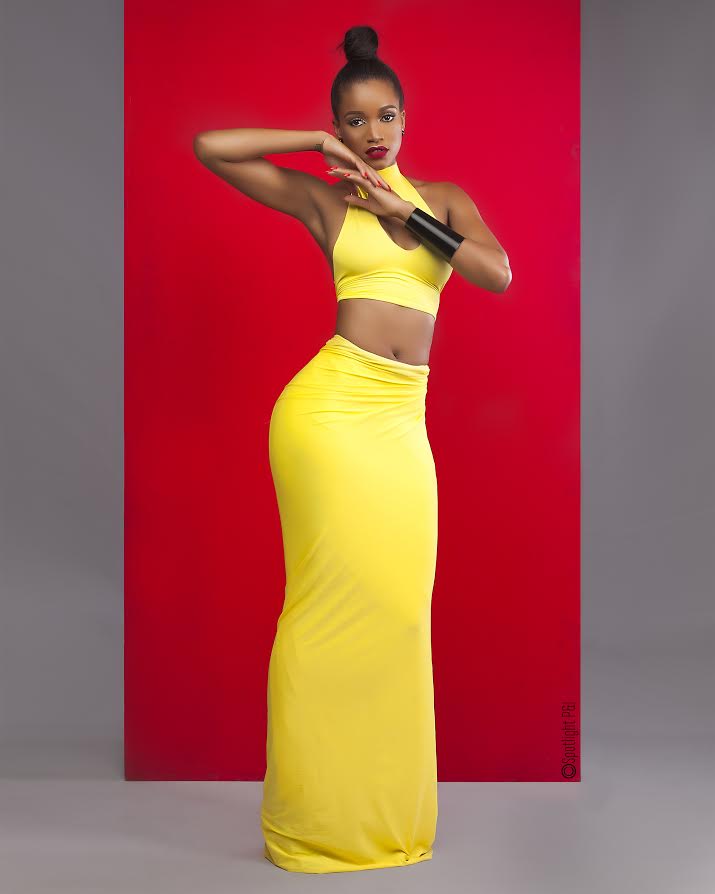 I can't exactly say when because I was never really dressing to impress but people seem to like what I wear so I'd say since the beginning of my career.
When, why, how was RIA born?
RIA was officially launched in April 2015 but the idea has been on my mind well before that. I was attending a fashion show in Ghana and I began to think about what I would have had it been my collection and what I'd do different and so forth and then and there I knew I had to launch RIA. RIA was born to share my personal style with people who like it and also dress the confident woman and today we are making custom-made and ready to wear clothing.
What are your thoughts on the fashion industry?
It is a growing industry too. And it will get there one day.
What have been your struggles in the industry? What would you want upcoming talents (entertainment and fashion industry) to know?
As a woman I had to prove myself by working twice as hard. Upcoming talents should not despair when it seems like it's not going to work out. Keep faith, keep working hard, be humble and kind to everyone and always pray.
We are almost halfway through the year, anything we should look forward to, from you and your brand?
A new RIA collection and more work with the Nepembe foundation and just more growth.
---
Maria on Fitness
What does fitness mean to you?
Fitness is my life right now.
How often do you work out?
Everyday mostly.
Are you on a specific diet?
Not really, but I watch what I eat. Strictly healthies.
What is your fitness mantra?
You want it? Work on it.
 Do you have a specific body goal? What are you working towards?
Not really. I just want to be fit and have a good looking body.
Favorite fitness style/look?
Nike tights, sneakers and a workout bra.
---
Quick fun Qs with Maria
● What are your nicknames?
RIA
● Three songs on your workout playlist?
Ethnix-"Lambela",  Davido's "If" and Kanye West "Famous"
● Must have beauty products?
Vaseline, Face scrub and Nivea body cream.
● What is your favourite cheat meal?
Doughnuts.
● Nike or Adidas?
NIKE
● Snapback or baseball cap?
Baseball cap
● Thigh high boots or ankle boots?
Thigh high boots.
● Describe your ideal date night?
Something simple but very romantic and fun.
● Best advice you ever received?
Do what makes you happy.
● Whose closet would you raid?
Kim Kardashian
● Describe life with one word…
Ongoing.
---
*Images by @spotlightpi
Check out Maria on social media to see what else she gets up to: @marianepembe